Gothic Vampires from Hell
(2007)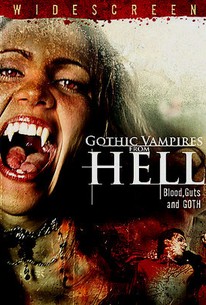 AUDIENCE SCORE
Critic Consensus: No consensus yet.
Movie Info
Industrial metal band Gothic Vampires from Hell is just starting out in the business. In their quest for a recording contract, they encounter Annastasia (Gina DeVettori) and Jasmine (Kristen Zaik), the mysterious owners of Gotham Records. For the band, vampirism is a persona; for these two seductive beauties, it's a way of life! The film's soundtrack throbs with the biggest names in Goth music, including New Skin, Fear Cult and Razed in Black.
Rating:
NR
Genre:
Directed By:
In Theaters:
On DVD:
Runtime:
Cast
Critic Reviews for Gothic Vampires from Hell
There are no critic reviews yet for Gothic Vampires from Hell. Keep checking Rotten Tomatoes for updates!
Audience Reviews for Gothic Vampires from Hell
Being a fan of Christian Death, Switchblade, etc. I had to check out this film and glad I did. Yeah there were many things about this film that could have been better such as the effects, backgrounds, production, etc. Also the killing scenes were hit up with buckets of fake blood, not sure why they used the same club dancing scenes and animation was bad but what do you expect for a low budget movie. It does have some cheese and laughs but the music is great and the gorgeous Gina DeVettori (Anastasia) gives a fine performance. Worth seeing it even though the film gears towards a certain audience.
4 5
I wasn't expecting this to be Oscar material. All I was hoping for was some cheesy vampire fun, a decent soundtrack, and maybe some gothic eye-candy. Well, the soundtrack was okay, but the rest I didn't get. It's utterly cringe-worthy. The actors appeared to have been scraped up off the street, regardless of acting talent or whether they look remotely goth (and giving them bad make up and costumes doesn't help either, funnily enough). If you're going to give us actors who don't look that goth, at least make them good actors. Or, if your budget doesn't stretch that far, go to some local alt clubs and find some subculturally pretty people who don't mind being in front of a camera spouting the drivel you call dialogue in exchange for a few dollars/pounds and/or free drinks (also known as the Razorblade Smile approach to casting). I will admit the black female vocalist of the other 'band' was reasonably attractive, and at least could sing fairly well. But that's all the concession you're getting from me on that score. Shame on you, Cleopatra Records, for associating yourselves with this. Some of you out there will probably want to rent it in order for you and your friends to have a hilarious evening criticising it. If so, enjoy yourselves. Otherwise, stay the hell away.
actors do a good job, but it is blatant in its stretching things out to feature length. B-roll footage is repeated within 10 minutes. A band appears as a different band 15 minutes later. Cheesy 80's video editting. The vampire bites are humorous.
Chris H
Discussion Forum
Discuss Gothic Vampires from Hell on our Movie forum!
News & Features