Gozu
(2003)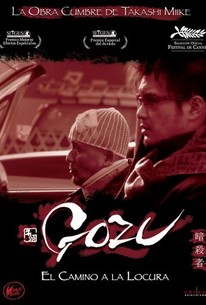 Movie Info
At a yakuza gathering, Ozaki (Shô Aikawa of the Dead or Alive films) unsettles the boss (Renji Ishibashi) when he claims a small dog outside the restaurant is a "yakuza attack dog" and viciously smashes it to death. Minami (Hideki Sone) is assigned to drive the apparently unstable Ozaki to a remote location and kill him. Minami considers Ozaki a "brother," and feels ambivalent about this assignment. After several odd incidents on the road, Minami ends up in the small town of Nagoya, where things get even odder. Unable to get a signal on his cellular, Minami goes into a restaurant to use the phone, and Ozaki, whom he thought to be unconscious, promptly vanishes. When Minami finally contacts the boss, he's told to get in touch with the local Shiroyama crew. Minami doesn't know his way around, and the weird locals seem more interested in animated, interminable arguments about the weather than in helping him find his way. Eventually he runs into Nose (Shôhei Hino), who seems relatively sane, and offers to help him find Ozaki. Minami spends the night at an inn, where the innkeeper (Keiko Tomita) possesses a strange lactating power (which she's eager to demonstrate), and mistreats her mentally challenged employee (Harumi Sone). After another frustrating day searching for Ozaki, during which he encounters the decrepit Shiroyama crew, Minami finds a note from his "brother," and travels to the town dump to meet him, only to find Ozaki (now played by Kimika Yoshino) in a transformed state. Gozu was directed by the prolific Takashi Miike from a script by Sakichi Satô, who also wrote the script for Miike's Ichi the Killer.
Rating:
R (for aberrant sexual and violent content, and for language)
Genre:
, , ,
Directed By:
Written By:
In Theaters:
On DVD:
Runtime:
Studio:
Audience Reviews for Gozu
Watching Gozu reminded me a lot of Eraserhead in that both films nearly abandon plot all together to make way for their respective bizarre scenes and surrealistic atmosphere. But this isn't classical Dali or Bunuel type surrealism, which focused a lot on style and subverting conventions, this is more of the Jorodowsky variety: start with a blank canvas, disregard narrative logic all together, and let your imagination run wild. Gozu may be the most peculiar and surreal film in Miike's canon. If you know anything about his work, that's saying quite a bit.
Jonathan Hutchings
Super Reviewer
½
Takashi Miike is a very strange man - I think there's sufficient evidence of that fact that I need not justify it further. So if I tell you that GOZU is probably Miike's weirdest film to date, you will know that we are talking some world-class oddity. Billed as a "Yakuza Horror" film, which is a label that just about fits if you consider that Japanese horror films have always shown a very different sensibility than Hollywood films (Japanese horror is generally of a quite intangible nature, about the horror of the unknown and the incomprehensible - not so much about the big scary monsters). GOZU is interesting in that the "horror" of it comes almost entirely from the way it is filmed - the camera work, the editing and the sound effects all come together to create a sense of foreboding and fear that for the most part is not at all born out by the actual events in the film. Miike is probably making the point that most horror films are just exercises in film-making technique these days, rather than presenting truly frightening content. Or perhaps he just fancied a way to make his latest Yakuza film a little bit different :) Miike is definitely one of the most creative film-makers working in the world today - quite possibly *the* most, given his insanely prolific output and the fact that almost every film he makes manages to be unique and memorable. Doing that with one film a year would be an impressive feat, and Miike gives us at least 3-4 such films every year. GOZU shows him on fine creative form once more, turning a story that probably isn't all that interesting into a surreal, dreamlike experience. The plot itself is very minimal, and largely irrelevant for most of the 125 minute running time. Basically, a Yakuza is told to take his yakuza-brother (Sho Aikawa) to an out of the way part of Japan and get rid of him, as he been showing signs of going a bit loopy. However, before he can carry out his orders, Aikawa disappears - and most of the rest of the film is concerned with Minami's efforts to find him. But that description really sells short the content of the film, which is really about the strange characters he encounters and the even stranger experiences that he has. Going into more detail about what happens wouldn't add a lot to this review, so I won't. Just be prepared to "go with the flow" and see what the film has to offer, rather than expecting anything specific from it. Don't expect a nice neat resolution at the end, either, 'cause you'll definitely be disappointed. Miike's films are often films that need to be seen in just the right mood to be enjoyed, and I'm glad I made the decision that my mood wasn't right when I started watching GOZU 6 months ago. The film sat there waiting for me until this weekend, when I figured the time was as good as it was going to get, and it paid off in spades :) Miike's films often suffer on repeat viewings, and I am pretty sure this will be true of GOZU - at over 2 hours it is definitely too long, and there are sure to be scenes that are a bit of a chore to sit through when you know what's coming. I couldn't say which scenes they are from a first viewing though, so there's nothing that's truly redundant in there, and I hope that the US distributors that recently acquired the film will remember that their viewers would rather make the decision themselves about any scenes that weren't needed. i.e. uncut, please!
Ariuza koraw
Super Reviewer
A conflicted yakuza is ordered by his superiors to dispose of his immediate boss, who's gone insane, but when the body disappears in a strange town outside Nagoya it becomes unclear who's actually the crazy one. One of the better efforts from Miike's weird and perverted phase; calling it the Japanese ERASERHEAD may be going a little far, but it's in the ballpark.
Discussion Forum
Discuss Gozu on our Movie forum!