Graffiti Bridge
(1990)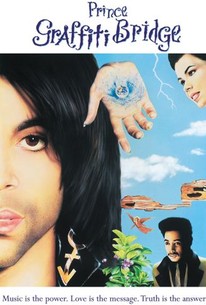 Movie Info
The sequel to Purple Rain, this film follows the conflict between The Kid (Prince) and Morris (Morris Day), as they struggle over the future of a nightclub and the love of an angelic woman (Ingrid Chavez).
Rating:
PG-13
Genre:
,
Directed By:
In Theaters:
On DVD:
Runtime:
Studio:
Critic Reviews for Graffiti Bridge
Audience Reviews for Graffiti Bridge
About 22 minutes into this, characters IN THE MOVIE starts walking out. Reminds me, that a friend of mine saw this in the theatre. He saw a dude sneak in to see it. Then saw him sneak back out. There's a legend that says Prince suffered from a bad Ecstasy trip back in 1988, which caused him to see devils chasing him. This prompted the last minute shelving of The Black Album, and the quick assemblage of it's replacement, Lovesexy. It's clear that he continued to work through his acquired demons even two years later, with '89's Batman soundtrack ignoring the movie and documenting his own spiral into insanity which brings us to this... this... work of therapy. The following decade would find him killing off Prince to become a symbol, so that he could learn to become Prince once again.
George Isaacs
Graffiti Bridge, the follow up to Purple Rain is written and directed by Prince and comes off like an extended music video than a film. The songs are strunged together to a horrible plot and seriously bad acting. Prince once again plays Kid, co-owner of Gland Slam club along with his music rival Morris Day(whos buffoon act along with Jerome Benton was great in the first one is now irritating here.)He meets an angel-like woman named Aura(Ingrid Chavez, who makes Apollonia look like Meryl Streep.) Purple Rain was not a great film, what it lacked in story and acting made up with energy of Prince's stage performances and style, this film lacks the energy as Prince performs on stage the backup dancers are a hindrance rather then compliment him. They look like video rejects of MC Hammer and Bobby Brown and other artists of the day. Too add to the cheapness of it all is the fact its film entirely at Paisley Park studios, so the scenes at the bridge and the streets outside the clubs look incredibly fake. Kim Basinger(his then girlfriend.)turned down the role of the Kid's girlfriend. Basinger has made some questionable career choices but she wisely avoided this disaster. A swan song for Prince's film career
Orlando Diaz
This film was definitely one of Prince's weirder trips captured on film. I loved the soundtrack when it came out and the music is great. The acting however, left a lot to be desired. Watchable if you're a big Prince fan (I am) but otherwise this sequel to "Purple Rain" ends up sleeping under a bridge.
Eric Jenkins
Graffiti Bridge Quotes
| | |
| --- | --- |
| Morris Day: | Sexiness to the left of you! |
| Jerome Benton: | Sexiness to the right! |
| Morris Day: | It's all about the pimp sandwich tonight!! Waah ha ha! |