Grand Prix
(1966)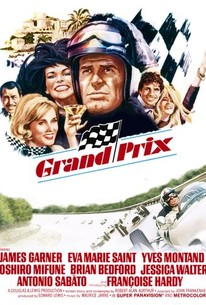 Movie Info
There's a few million dollars' worth of star power and a nickel's worth of plot in the lavish race-car melodrama Grand Prix. Among the participants in this annual cross-continent competition are characters played by James Garner, Yves Montand, Brian Bedford, and Antonio Sabato. Interested parties include Toshiro Mifune (his voice dubbed by Paul Frees), Adolfo Celi, and Claude Dauphin, while the women who agonize on the sidelines include Eva Marie Saint, Jessica Walter, and Françoise Hardy. The racing sequences are top-rank, cleverly utilizing those 1960s devices of helicopter angles and multiple screens. Oscars went to editor Frederic Steinkamp (among others) and the sound-effects supervisor Franklin E. Milton. Filmed on location, Grand Prix made back its cost about half a week into its run.
Rating:
PG
Genre:
,
Directed By:
Written By:
In Theaters:
On DVD:
Runtime:
Studio:
MGM Home Entertainment
Critic Reviews for Grand Prix
Audience Reviews for Grand Prix
½
Grand Prix with James Garner I like the opening with all the cuts, the sound effects and starting with interviews with the drivers. It looks so amazing. I'm not sure if I'm a big fan of multiple screens taking up the same screen. James Garner tried saying something was wrong with his car almost in the middle of the race but they did not know what to do. It almost killed his team mate with a girl who does not enjoy her husband driving races and James Garners car went into the Mediterranean Sea. No there is no terrible way to win. There is just winning. For James Garner character it is not about the money but about racing and chance to win. He is willing to take less in profits and pay for his own expenses and take from the race winnings a portion. For the Ferrari company to sponsor James garner it is not about driver so much as much as not having the driver disqualifying About quality and reliability of the vehicle. I like seeing variety in the different types of cars and vehicles shown in this film. I think it interesting how the different races have a different feel to them in how they are shot. One race it shows the race with the crowd in the front and race in the background. Or race overlapping other footage of the race with a French sound to the music. The look of the race is different. One is a love story where he goes out with a girl but wife is just a business relationship rather than love relationship so one racer goes out with a different woman. Another is splitting up with her husband or girlfriend James Garner tries to get into a race as a driver so he works a news reporter in the race. Then we see the Japanese interested in the race. Japanese are interested in getting James Garner as a driver. He wants to higher as a third car driver James Garner. That way the Japanese race car company owner can win by any means necessary. There are no subtitles. The film is told and spoken in several different languages by the actors, speakers, news reporters. I like how the film is shot and decision on how music over sound effects are used in a scenes. One of the leading women is from North by Northwest. The girl is John Pierre's girlfriend. Japanese Owner Izo Yamura In the World War II He shot 17 planes. After the war Americans occupied his home and when through they altered his home adding closets and bathrooms. Locking up their acquired possessions. He comes right to the point. Pete Aron replies what you did in the war does not matter. He missed World War II by a few years. They enter the wounded drivers home Scott Stoddard to find it filled with trophies in cases. This film does a good job developing the characters and giving bits of information subtly throughout the film in different forms. Italy, France, and England have different feels to the race and it is reflected in how they are shot and what are made the emphasis in the races. In England it rand in the race to have a different look and feel to the race. Scott Stoddard says With a car can strip to find what is the matter with it. If only can do that with people. In England it is the driver who was the Winner in Italy who wins and the looser who becomes the winner. It is the one who got in the wreck in Italy Scott Stoddard who comments about James Garners win. Then they go to the Netherlands for the race. Follows 4 racers. Music is more emphasized. 4 camera screens for the race. Shows pain in divers legs. Knees of Scott Stoddard This time the winner in Netherland is the one who had an accident at the begging of the film. But he is shooting his leg with steroids or drugs to keep his leg out of pain. Still in recovery not completely recovered. Next race is in Mexico. Start of with big band. Still puddles of water on track in Mexico. Overlapping footage. See driver putting in drugs before race. Scott Stoddard Driver passes out from the drugs in the middle of the race but makes it to the pit stop. James Garners car leaking fuel and on fire. James Garner makes second. Nino Barlini GR.A from driver from Italy is winner of one race then leaves his girlfriend to date other girls. Jean-Pierre doubts why he is driving based upon how many showed up to help the dead driver over the winner. Cars for several car companies Ferrari and Ford show up late for the race. Jean-Pierre's real wife shows up for race after Mexico. Ferrari owner is thinking of retiring John Pierre. Jean-Pierre Barti wife; Monique DeLvaux Barti says he will only have prestige if he is married to her. The other girl Pierre is dating is nothing. Nino Barlini Winner of last race leaves behind his girl for dating other girls working for the Japanese company. Geisha girls The race means uncertainty. Nino Barlini's girlfriend is leaving him because goes for other girls. Do you want me to stay. I think you are old enough to make own decisions. Scott Stoddard Group B Steep inclines for the road turned at an angle. Monzo Banking Have to go 180 and gravity pulls car towards banking. James Garner as Pete Aron response to Japanese owner Izo Yamura to why he races To feel so close to death is life and feel like living. This film is filmed with incredible footage of races, and crashes. Shows life and death. It was crazy seeing one of the crashes with John Pierre going over the ramp. He dies in the race. James Garner as Pete Aron wins the race. And he has Scott Stoddard join him in a drink out of the trophie for toasting his fellow racer John Pierre. We see James Garner as Pete Aron at the end revisit the finish line to remiss over the loss of a fellow with the sound effects of the cars playing in the background. I do like the film score in this film. It presents both the good and bad things concerning car races from the different nations interest in racing, the crashes, publicity, alcohol, drugs and drivers relationships with other people. I liked how they filmed the car races. It looked amazing all the different moving camera angles. This had an interesting look. I did feel as though it was a little long but it was enjoyable. The first car race was amazing.
STCENTERPRISE .
½
Grand Prix is considered one of the greatest films made about professional auto racing, mainly due to it's numerous camera angles, a variety of different and thoroughly captivating split screens as well as some of the most intense and engaging driving (A lot of it actually recorded at real Formula One races) sequences recorded on film. There is a lot to like here in the racing elements and a majority of the film is the races, however a downside is the bland and mindless romantic stories tied inbetween them. The only interesting element is the dilema of risk-taking and what you have to give to compete in such dangerous professions, the men involved all make many sacrifices as well as their loved ones. The cast all does a good job and Toshiro Mifune as well as many others make up the great supporting cast as well. For the driving sequences captured alone, the film is worth a watch.
Chris Browning
Super Reviewer
As the showpiece film for Formula One, Grand Prix is a cult favorite in the racing community. The racing sequences are tremendously exciting, shot from inside, in the air, along the track, in a chase car, pretty much everywhere that a camera can go. The fact that most of it was shot at high speed in real life, much of it at actual Formula One races, gives it a very authentic look. The personal stories, which seem to drag quite a bit, are filler in between races, but it's Frankenheimer's direction that puts you right behind the wheel.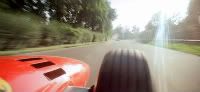 El Hombre Invisible
Super Reviewer
Grand Prix Quotes
There are no approved quotes yet for this movie.
Discussion Forum
Discuss Grand Prix on our Movie forum!