Grand Theft Auto
(1977)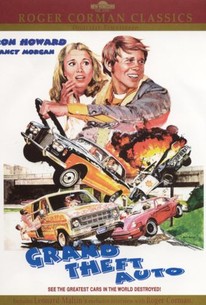 Movie Info
In exchange for being allowed to make his directorial debut in Grand Theft Auto, Ron Howard agreed to take no salary as a director, merely as star and co-screenwriter (with his dad Rance). The plot finds Sam Freeman (Howard) eloping with his heiress girlfriend Paula Powers (Nancy Morgan). Her mob-connected dad Bigby Powers (Barry Cahill) vehemently opposes the marriage, and isn't about to change his mind now that Sam has stolen his Rolls-Royce and sped off to Las Vegas with his daughter in tow. Marion Ross, Howard's Happy Days mom, turns in an offbeat supporting characterization.
News & Interviews for Grand Theft Auto
Critic Reviews for Grand Theft Auto
Audience Reviews for Grand Theft Auto
Piss off, pig! A rich girl decides she doesn't want to march to her parent's orders and eventually rebels to the point where she chooses a fiancé and decides to elope to Vegas. When her parents discover her decision, they send her to her room. She sneaks out, steals their car, and picks up her boyfriend and heads to Vegas. Her anticipating fiancé, set up by her parents, puts a rumor of her kidnapping out through the radio with a price on her and her true fiance's head. Everyone who needs money will hunt the couple down to stop them. "He realizes there's a conflict." Ron Howard, director of Cinderella Man, The Da Vinci Code, How the Grinch Stole Christmas, Ransom, Apollo 13, Willow, Far and Away, and Backdraft, delivers Grand Theft Auto. The storyline for this picture is pretty straight forward with interesting characters and situations and worthwhile car chase scenes. The acting is just okay and the cast includes Ron Howard, Nancy Morgan, Elizabeth Rogers, Clint Howard, and Rance Howard. "I will not tolerate police harassment." I watched this movie on Netflix recently and was always excited to see these old Ron Howard pictures (huge fan of the 70s car films). This was just okay, fairly average to be honest, and a definite step down from Death Race 2000, Two-Lane Blacktop, or Dirty Mary Crazy Larry. This is worth viewing once if you're a fan of the genre but is not a classic within the genre. "Don't get your bowls in an uproar." Grade: C+
Kevin Robbins
68% "We've got a cockamania circus on our hands!"-Sam Freeman Opie is involved in a chase thats causes thousands of dollars worth in damage.
FilmGrinder Stone
½
Yes, this is the film that started the video game and as you watch it you can see why they made it into a video game. It definitely works more for a game then a movie. This was Ron Howard's first time directing and that wasn't so bad. It was the script which he wrote with his father that didn't work but you have to start somewhere. If you're a fan of the game you might want to catch this film but if you want to watch a good film watch A Beautiful Mind. www.what-to-watch.com
Laura Rachel
Grand Theft Auto Quotes
There are no approved quotes yet for this movie.
Discussion Forum
Discuss Grand Theft Auto on our Movie forum!