Grandma Got Run Over By A Reindeer
(2000)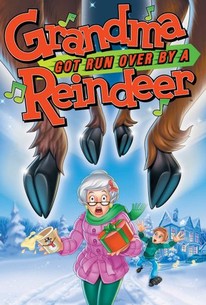 AUDIENCE SCORE
Critic Consensus: No consensus yet.
Grandma Got Run Over By A Reindeer Videos
Grandma Got Run Over By A Reindeer Photos
Movie Info
One of the most popular novelty songs of recent memory forms the basis of this animated holiday-themed comedy. As if young Jake Spankenheimer doesn't have enough problems on Christmas Eve, he has to help his mom and dad prevent mean-spirited Cousin Mel (voice of Michele Lee) from taking ownership of the family store. When his grandmother gets lost in the cold in the midst of the confusion, Jake is sent out to find her, only to discover that she's become the victim of a rather unusual hit-and run accident -- and that Santa is real, but not quite the sort of guy he was expecting. Grandma Got Run Over by a Reindeer was directed by Phil Roman, who previously helmed several of the Peanuts TV specials in the 1970s and was a producer for the TV series King of the Hill and The Critic. Elmo Shropshire, who as one-half of Elmo and Pasty recorded the hit version of the song, narrates the story and contributes new songs for the soundtrack. ~ Mark Deming, Rovi
Rating:
G (nothing objectionable)
Genre:
,
Directed By:
On DVD:
Runtime:
Studio:
Warner Home Video
Critic Reviews for Grandma Got Run Over By A Reindeer
There are no critic reviews yet for Grandma Got Run Over By A Reindeer. Keep checking Rotten Tomatoes for updates!
Audience Reviews for Grandma Got Run Over By A Reindeer
UHHH...okay? This is one of the strangest Christmas films ever made. I recently caught it on TV and I hadn't seen the damn thing since it originally debuted on TV back in 2000. 14 years later, whilst flipping through channels, I saw that it was on and I my immediate response with a grin on my face was, "Holy shit! I haven't seen this in years!" For whatever reason, I was excited to rewatch this relic from childhood even though it had been so long since I had seen it. Yes, admittedly, the film is quite corny...and frankly, bad. But it was bad in a strangely amusing way that was also endearing to me for whatever reason. I guess it was something that appealed to the B-movie fanatic in me, but it also has a certain charm going for it with all the ridiculous Christmas cheer sprinkled on top. I can't lie, I love this stupid film, and I will never be able to justify to a sane person why I enjoyed it so much. The story revolves around a boy named Jake Spankenheimer who is very close to his grandmother. His grandparents run a store called Spankenheimer's which while small, is a beloved part of Cityville, especially during the holidays. However, the city's richest and most powerful man, Austin Bucks, wants to buy it like all the other stores in the city and despite his generous offers, Grandma Spankenheimer refuses to sell, much to the chagrin of Cousin Mel who starts to formulate a plan to get Grandma to sell the store and make the family rich. Cousin Mel decides to sabotage Grandma's fruitcake in the hopes of sending Spankenheimer's into financial ruin, giving Grandma no other choice but to sell it to Austin Bucks. But the sabotage has an unexpected effect when Grandma leaves home to bring the fruitcake to the store when she suddenly gets run over by Santa and his reindeer, which Jake and his grandfather both witness. Grandma, however, is now missing after the bizarre incident, which devastates Jake, but delights Cousin Mel since she will now have an easier time trying to sell the store, which she does by tricking Grandpa into signing the deed over to her. Jake finds out what happened and meets with Austin Bucks who agrees that the sale will not go through if Jake can find Grandma in a week. Now, Jake must go searching for his grandmother not only because she is dearly missed (Well, by him at least. The rest of the family doesn't seem to give a flying fuck that Grandma's missing and possibly dead), but also to save the store since she has to be found in order to negate the sale of the store. In the process, he goes on a bizarre journey involving Santa, the elves, amnesia, kidnapping, a court trial, and more to stop Cousin Mel. The story is insane. I went into as much detail about the plot as I could to give you an idea of what it's about, but it's actually even weirder than what I described. The scenarios are so outlandish and bizarre that they become oddly fascinating by themselves, while also raising random questions the film surely didn't intend (How strained is Grandma's relationship with the rest of the family? Only Jake actually cares when she goes missing, not even Grandpa - her husband - gives a shit, either). I know the film is meant to be goofy, but with all the strange tangents it goes into, it's hard not to be fascinated by its lurid madness wrapped up in holiday tidings like some surrealist film or psychological film. One thing's for sure: I definitely wasn't bored by the story. The voice acting is also fascinating in itself, especially how the actors are put into such strange characters and work their way into an insane storyline. Though working with something so bizarre, the actors are lively and fun as they bring their strange characters to life. I enjoyed the performances across the board even though they were very over the top and quite corny. The film's bizarre blend of comedy and adventure was a lot of fun to watch. I laughed both when the film wanted me to and when it didn't want me to. Plus, with all the bizarre scenarios involving kidnapping, fraud, and Christmas cheer, there was a lot going on for a film that was only 50 minutes. For a B-movie fanatic there are all sorts of strange things to observe here. Overall, this film is indeed very stupid and mostly a ridiculous exploitation of an already stupid country Christmas song. Still, it's one of the most fascinating and bizarre messes I've ever seen. I've seen very strange surrealist and art house films that weren't nearly as insane as this children's Christmas special was. Still, this is a film I will no doubt continue to treasure in future years because it has very weird charms going for it, plus my stubborn nostalgia which seems to always leave the rose-colored lenses on...and I wouldn't have it any other way.
Keenan Sullivan
An abomination to animation. All this movie does is piss off your intelligence to the point of making it painful to watch. All this movie consists of is horrible animation, appalling & preposterous voice castings (one of the worst things in this sequence of moving characters), an out-of-the-dumpster plot & story (seriously, Santa gets sued), annoying characters, horrible songs (the song this crap was inspired from is actually pretty good, but gets irritating after a while), & an overall bad animated film. Now, while this movie sucked, & it is actually one of the worst animated movies I have ever seen, it is not the WORST I've seen. That spot is already taken by the Titanic animated movies, & The Little Cars. Plot/Story: The plot of thefilm should be pretty obvious from the title; a kid's grandmother gets run over by one of Santa's reindeer. So from that, you wonder how you can possibly extend it to 50 minutes. Well, apparently the animators of this found a way by adding a grandmother that lost her memory from that impact & then somehow lost her memory while also being taken care of at Santa's workshop, an evil gold-digger cousin named Mel that wants to take over the family business from her own great aunt at any cost along with an accomplice (appropriately & creatively named Ms. Slime) & then sell it, & Santa Clause getting his ass sued by that same accomplice & evil cousin. Yeah, from that, you can't expect a good film with those plot elements thrown in. All of them are incomprehensible & do not make anymore sense as they go by. Cast/Acting: Casting choices are loaded with no-names, & they are all done wrong, seriously. It's like whoever directed this movie just asked the actors to voice whichever character they're fingers randomly landed on & go from there. Not only are the casting choices for the characters bad, but they are also horribly done; no character in here with the exception of Cousin Mel & Jake sound anything like they're characters. Grandma sounded like some annoying half-wit that seemed to have gotten a squeaky toy stuck in her piehole, grandpa sounded like some obnoxious guy who was in his early twenties & hadn't yet hit puberty, & Santa sounded young as well, nothing like the jolly fat old man he is supposed to be. Songs: As far as I can recall, there were only less than a handful of songs in here, next to the main theme song of the movie. But by handful, I actually mean I can't remember any other songs in here other than "Grandma Got Run Over By a Reindeer" & "Grandma's gonna sue the pants off of Santa". I will admit, that as random as "Grandma's gonna sue" was in the film, it was actually pretty catchy. But hearing it again & again more than 3 times a day or every few days would drive me insane (because the lyrics are actually the same over & over again). Animation: It sucks. The animation in here is not only inconsistent, but also choppy, & very cheap. There are a handful of moments where the animation is pretty clean & smooth, but the rest of it is just awful. Heck, a lot of the character's looked deformed! I swear I noticed how one of Cousin Mel's gigantic tits (I think it was the right boob) shrunk & regrew every frame for about 10 seconds! Everything else in this is just crap. I understand TV-made films are on liited budgets, but this is no excuse. Disney's "Beauty & the Beast: The Enchanted Christmas" was done by the Disney Television animation industry, & even that movie had some beautiful animation for a TV-animated movie.
Frisby 2007
Super Reviewer
½
This is a bad movie, but that doesn't mean that it's not worth watching. The film clocks in at barely 50 minutes. The musical numbers might be a tad hard to stomach, but the plot line is an interesting take on the popular parody song of the same title.
Fred M
Grandma Got Run Over By A Reindeer Quotes
There are no approved quotes yet for this movie.