Les Raisins de la mort (The Grapes of Death)
(1978)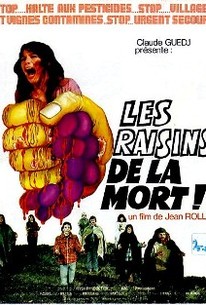 AUDIENCE SCORE
Critic Consensus: No consensus yet.
Movie Info
This gory zombie film was directed by cult filmmaker Jean Rollin. The plot concerns a dangerous pesticide which is applied to grapes in a wine-producing region, turning the inhabitants into insane zombie killers. There is plentiful nudity and violence for the exploitation crowd, as well as crucifixion and a topless woman being impaled with a pitchfork by her own father. Horror fans will note the numerous similarities to Jorge Grau's hit Breakfast at Manchester Morgue, while mainstream viewers...well, they probably won't be watching in the first place. ~ Robert Firsching, Rovi
Critic Reviews for Les Raisins de la mort (The Grapes of Death)
Audience Reviews for Les Raisins de la mort (The Grapes of Death)
Jean Rollin's "Grapes of Death" is a refreshing living dead poem, and an effective low key horror film from France's gentleman auteur. After Elizabeth (Marie-Georges Pascal) encounters a rotting man and the corpse of her traveling companion on a deserted train, she flees into the countryside where she must battle a plague of the sad, tortured dead. The "grapes" of the title relate to the cause of the spreading problem. Rollin's films have always found horror and dread in rural landscapes and crumbling architecture; in "Grapes" the fascination with these elements continues and is intensified by suitably evocative photography. Despite some ropey focus and action sequences that don't quite cut smoothly, this is the director's most technically polished work and an important addition to French "cinefantastique". Although the plot line bears some similarity to Romero's "The Crazies" and the visuals pre-date the recent dead-on-arrival French "Revenants" (see review), Rollin does not run this show along traditional genre lines. Instead, he has the heroine Pascal encountering a blind woman who is oblivious to the contagion and a recluse (Brigitte Lahaie) who may be her savior in a white nightie. Elizabeth's final reunion with her boyfriend has a sad, tragic quality that becomes, like the rest of the film, quite surreal. There is sporadic gore and the violence is shockingly sudden in parts, but Rollin's trademark dream-like pacing and social commentary are there to be enjoyed and appreciated.
Cassandra Maples
Super Reviewer
½
When a woman runs off a train after she finds her friend murdered and another passenger turning into something hideous before her eyes all she hopes for is help but as she goes from village to village she starts to find that everyone is turning breaking out with the same hideous marks and driving them crazy untill she finally puts it together with help from two men not infected that its coming from the wine people drank. This movie in French with subtitles kept me interested all the way threw small bits of gore not a huge story plot but still worth a watch
Les Raisins de la mort (The Grapes of Death) Quotes
There are no approved quotes yet for this movie.