Grassroots
(2012)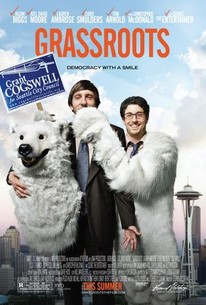 Movie Info
A short-tempered, unemployed music critic who likes to dress as a polar bear thinks he can harness the power of the people to ride the monorail to political victory in Seattle. And he's right. Almost. It's before Twitter, before the flash mob, before Obama. It's 2001, and political unknown Grant Cogswell decides he must take down Seattle City Councilman Richard McIver. Grant has only one dream, but it's a big one: an elegant monorail gliding silently above the city's wet streets. Grassroots is a character-driven comedy about the power of the people and the virtues of standing up for what you believe in. Against all odds. -- (C) Samuel Goldwyn
Critic Reviews for Grassroots
Audience Reviews for Grassroots
½
This is another one of those movies where quarter ratings would more accurately describe my thoughts about the film. It's definitely better than average, but it's not what I would call a good movie. So, to me, a score of 2.75 would have been more than fair for this movie. It's just a notch below solid. I don't know what the film was lacking, but it was definitely missing something that would've put it over the edge. It's not a consistent comedy, nor do I think it was meant to be. The story is definitely intriguing enough to hold your interest. It's a story about this man who decides to run for the Seattle City Council despite having absolutely no experience in politics at all. Like none whatsoever. He's also going against this councilman on this monorail that Grant, our protagonist,wishes to expand to a city wide one. It would also be less expensive, more accessible to the entire community and be healthier for the earth. As opposed to the alternative, which McIver is pushing forward, which would be louder, it would force land to be used up for this massive ground rail train. Grant also feels it would drive a wedge between the community, it would separate the rich and the poor, with the ground rail train being more accessible to those more affluent. The thing about Grant, however, is that he is clearly very passionate about what he believes in and he speaks with a rage in the tone of his voice that starts to gain him more and more followers to the point where he becomes a legitimate contender for the council seat. I liken it to how Donald Trump has gotten as far as he has. With the only minor exception that, at the very least, Grant is trying to unite the community with his monorail, whereas Trump is trying to create division. Grant is trying to make a positive change in his community versus what Trump is doing, which is trying ostracize certain parts of the United States. Whether it be muslims, mexicans, women or homosexuals, it doesn't matter, Trump is using ignorance to gain voters. At the very least, Grant, in his own special way, is fighting against something that he truly feels is dividing his community, so those are the differences. One of the subplots of the film includes speculation as to why Grant is going against the only black councilman in Seattle and the type of people that are supporting Grant because of that. Which I didn't like, because I felt it was way too forced in there. Maybe there was some of that in real life, but it doesn't really play well in the film, because it sort feels irrelevant. His politics should be the issue, not whether Grant is going after McIver because he's black. So that was kinda lame. But I do like the film in that it doesn't really shy away from portraying Grant as someone who has a lot of good ideas and a lot of love for Seattle, but he's also someone who's paranoid and sometimes even downright unlikable. It's also movie that's as much about Grant's maturation as it is about his improbable political aspirations. The acting is solid, though. Jason Biggs and Joel David Moore were both good in their roles, but their characters weren't exactly all that complex or detailed. The film is predictable, you can see where it is gonna end up, so that holds it back, but only a tad. With that said, the film, as I mentioned, just doesn't always come together as a good overall experience. It will fly by, it doesn't overstay its welcome at all. It's not good, but this is a perfectly fine movie right here.
Jesse Ortega
Super Reviewer
Grant Cogswell is probably the only likable character in this movie.I think the story at heart gets lost among all the little side stories that end up devouring the film.
Danielle Kelly
An enjoyable, albeit paint-by-numbers, film that effectively triumphs idealism and activism, while also exposing its potential flaws. Although writer-director Stephen Gyllenhaal turns the true story of political activists and grassroots politicians Grant Cogswell and Phil Campbell into an oddball comedy-drama that champions the underdog and the little guy. The film has a lot of heart, but by the end, it's pretty forgettable. Both Jason Biggs and Joel David Moore are perfectly cast, and their chemistry together is really what makes this film work. Biggs who is incredibly likeable and sympathetic as the best friend to an eccentric, often abrasive idealist played by Moore, is the emotional center of the film. As we watch him begin to believe in and be inspired by his friend and eventually begin to question if he's wasting his time, we take every twist and turn with him. The ensemble cast in the film keeps things interesting in the slower parts of the film. Cedric the Entertainer gives a remarkably reserved performance as the vilified incumbent who Cogswell is determined to take down. The comedian never goes for laughs, but actually is charming enough to make you believe why the character has been elected so many times. Lauren Ambrose, one of my favorite actresses, gives another great performance as the Campbell's girlfriend. Unfortunately for Gyllenhaal and crew, Grassroots isn't anything new or that entirely special. It's an enjoyable and emotional film that makes you believe in the underdog, and in that sense the film is a solid film. Ultimately it's forgettable and predictable, but definitely worth a watch, if just to see Jason Biggs in an enjoyable film. For more movie reviews visit: www.reelfive.com
Nathan Martin
Grassroots Quotes
| | |
| --- | --- |
| Phil Campbell: | What happens if we do win? |
| | |
| --- | --- |
| Grant Cogswell: | You are going to do it with me. It's the reason you got fired! |
Discussion Forum
Discuss Grassroots on our Movie forum!