Grave Encounters 2
(2012)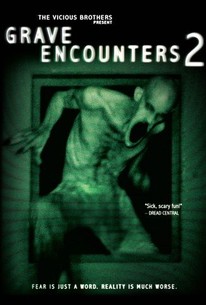 Grave Encounters 2 Videos
Grave Encounters 2 Photos
Movie Info
Grave Encounters was a found-footage horror phenomenon that many people believed was just a movie. Film student Alex Wright is out to prove them wrong in Grave Encounters 2. Alex is as obsessed with the first film as the 20 million people who viewed its viral trailer on YouTube. While he and his friends research the events and visit the real psychiatric hospital depicted in the original film, they find themselves face-to-face with unspeakable evil, banking on the hope that their knowledge of the original film will help them survive the sequel. -- (C) Tribeca
Rating:
NR
Genre:
Directed By:
In Theaters:
On DVD:
Runtime:
Studio:
Cast
Critic Reviews for Grave Encounters 2
Audience Reviews for Grave Encounters 2
½
I liked the original Grave Encounters, I thought it was a solid film with some good scares. Fast forward a year later and here we have this sequel. Ok basically the story of this movie is to pretend that the first Grave Encounters was a gigantic success, like something to rival The Blair Witch Project or Paranormal Activity. I understand that horror films live in a bubble and you shouldn't take that bubble too seriously, but I find that there's a hint of ego showing from The Vicious Brothers' part to pretend like their movie, which was successful on an independent level, will ever command as much debate as The Blair Witch Project did when it first came out. So that right there sort of got things off to a shaky start. Basically the series went from a movie about charlatans finding themselves in a situation that was a little too real for them, to this...a meta horror movie if I ever saw one. The first act of the movie basically consists of Alex and his crew trying to find out what happened to the crew of the original film, and finding out whether this really happened or not. The movie is so self-referential that I was about ready to turn it off at the 30 minute mark. I hate to use this word, but it was absolutely pretentious. Sure, it's an ambitious approach but it's an approach that was completely unnecessary. Basically the first act of the movie could've been done in less than 10 minutes. But because The Vicious Brothers wanted to show off how clever and smart they were by trying to subvert horror conventions, they didn't, the movie got off to a terrible start. Scott Weinberg, a man whose opinion on horror I respect, says that the movie is so far up its own ass it almost disappears. And I completely agree with that, because in many ways the film is a tribute to The Vicious Brothers' ego, because they can't give me one good reason for this first act being so meta. Well other than a tribute to their own cleverness. Ok, so let's move on to the second act...when the crew decides to finally go to the psychiatric hospital. This is where the film should have its best moments right? Well, yes you would be correct actually. The problem is that there are not even that many scares...and they're all crammed into the second act because, of course, the third act had to go back to the meta bullshit. There was also one incredibly stupid moment where two of the characters doubt that a free standing door could actually lead to anywhere, imagine Narnia. These are the same two characters that, not 20 minutes prior, had escaped the hospital, gotten in their car, drove to their hotel, got to their rooms, packed up their shit and when they tried to leave, the elevator door open to reveal that they were still in the hospital. But I mean, a free-standing door that actually leads to somewhere, well that's too fucking hard to believe. Rampant stupidity. And, of course, the characters are unlikable as shit. But I will give them this, at least this second act had some decent scares...and that's what the movie should have actually concentrated on and rather than trying to make a statement about the nature of horror sequels. And this brings us to the last act, where they take the meta bullshit and take it to the next level. Basically, the fucking hospital is being haunted by this doctor, or something, that performed all kinds of fucked up experiments on people. This doctor wants these movies that are being filmed to continue in order to get more idiots to go there exploring. This is clearly directed at the nature of horror films and its sequels and producers that keep exploiting these franchises. It's not a bad idea per se, but it's done in a such a self-serving manner that it just doesn't work. I don't think anybody, when choosing to watch this movie, wanted to watch a self-referential horror movie criticizing the nature of horror sequels. They wanted to see a movie with a lot of supernatural scares and that's the problem. I don't fault The Vicious Brothers for their ambitions, but I do fault them for not being smart enough to figure out what their audience really wanted. If the movie spent more time on developing decent scares rather than trying to subvert horror conventions, this movie would've been much, much better. Terrible movie here.
Jesse Ortega
Super Reviewer
½
[img]http://images.rottentomatoes.com/images/user/icons/icon13.gif[/img]
Directors Cat
Super Reviewer
½
For the sequel to last year's bland found-footage flick, things have gone all meta. The story here is of a film student who becomes obsessed with the idea that the events of the first film were indeed real. The first half is somewhat interesting as he and his friends investigate this idea but the second half is practically a remake of the first movie. The only entertainment here is in the opening sequence, a montage of Youtube reviews of the first film, not all positive. It has to be said the movie does feature some quite impressive effects work given the low budget.
The Movie Waffler
Super Reviewer
Discussion Forum
Discuss Grave Encounters 2 on our Movie forum!
News & Features