Grave of the Fireflies (Hotaru no haka)
(1988)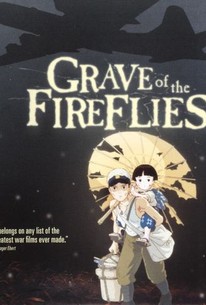 Grave of the Fireflies (Hotaru no haka) Videos
Grave of the Fireflies (Hotaru no haka) Photos
Movie Info
Grave of the Fireflies opens on an evening in 1945, after Japan's surrender at the end of World War II; and in a train station, the young Seita dies alone. The rest of the movie tells us, in flashback, how things have come to this. Seita and Setsuko are two young Japanese children growing up in the waning days of World War II. Much to Seita's pride, their father is in the Japanese navy, and they live fairly content lives in Kobe despite rationing and the other privations of war. When their mother dies from burns suffered during an American fire-bombing raid, a distant aunt takes them in -- and conflict eventually forces the children to try to survive on their own. At first, Seita and his little sister enjoy their idyllic lives in the country, but harsh reality eventually settles in as Seita begins to understand the difficulties of taking care of a young child when both food and compassion are scarce. ~ Emru Townsend, Rovi
News & Interviews for Grave of the Fireflies (Hotaru no haka)
Critic Reviews for Grave of the Fireflies (Hotaru no haka)
Audience Reviews for Grave of the Fireflies (Hotaru no haka)
This work follows a brother and sister trying to survive in Japan near the end of WW2. It walks a very careful line as it begs sympathy for Japan (through the eyes of innocence, of children) for a war that they initiated. The close relationship between the children is certainly moving and effectively works to engage sympathy, but I couldn't help but wonder for say similar children, say of Nanking for instance. A tough watch.
Kevin M. Williams
Super Reviewer
½
A devastating animation that never holds back in its haunting depiction of the horrors of war and the people whose lives are destroyed by it, and the result simply ranks among one of the most powerful anti-war films to be ever experienced - animated or not.
Carlos Magalhães
Super Reviewer
One of the saddest films of all time and one of the greatest anti-war films ever created (even if it wasn't director Isao Takahata's exact intentions but that is a different discussion entirely and is irrelevant to this review). A harrowing tale of innocent children caught up in the terribly indifferent effects of wartime. This is no heroic tale of differing ideologies and factions, this is a very emotionally-taxing tale set in the waning days of WWII that will leave you feeling depressed as a brother and sister are physically and emotionally worn-away by the cold world that deprived them of their parents. Be sure to have plenty of tissues upon viewing this tear-jerking masterpiece. Can't believe this was released together with 'My Neighbor Totoro' (practically the happiest movie ever made). Talk about a bi-polar double-bill.
Christopher Heim
Super Reviewer
Grave of the Fireflies (Hotaru no haka) Quotes
| | |
| --- | --- |
| Setsuko: | "I've been having diarrhea." |
| Setsuko: | I've been having diarrhea. |
| | |
| --- | --- |
| Setsuko: | And she never woke up again... |
| Seita: | [about Setsuko] She never woke up again. |
| | |
| --- | --- |
| Setsuko: | why must firefiles die so youg |
| Setsuko: | Why must firefiles die so young? |
| | |
| --- | --- |
| Setsuko: | Why must fireflies die so young? |