Grave of the Vampire
(1974)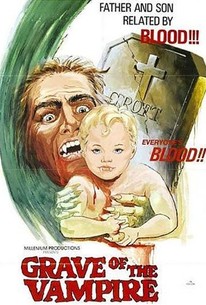 AUDIENCE SCORE
Critic Consensus: No consensus yet.
Movie Info
This dark, violent British production stars Michael Pataki as a brutish vampire apparently lacking in Dracula's powers of seduction, since he finds it necessary to brutally rape a young woman (Kitty Vallacher) in order to sire a child. The product of this unholy mating is a half-human, half-vampire baby boy, bottle-fed on the blood of his now-insane mother (a truly sickening sight) until her eventual death from anemia. Later as a young man, the son (William Smith) is able to spend short periods in daylight, and his bloodlust is considerably lesser than that of his father. Tormented nevertheless by his evil condition, he curses his bloodline and defies his vampire heritage, tracking his father down to the university where he teaches occult sciences. Aside from Pataki's coarse but imposing performance, this low-budget film is a fairly routine genre entry, but the climactic, bloody duel between father and son vampires is quite gripping.
Rating:
PG
Genre:
,
Directed By:
Written By:
In Theaters:
On DVD:
Runtime:
Studio:
Entertainment Pyramid Inc.
Audience Reviews for Grave of the Vampire
A vampire rapes a woman in a cemetery; years later, her half-vampire son searches for his fangy dad, now a night school professor of occult studies (!) A promising, if fairly ridiculous, premise is wasted in this lifeless, talky movie.
This movie is a little better than what you might guess from the picture. A woman is raped by a vampire and gives birth to his half vampire son. The actor makes a good vampire. The movie makes the identity of the vampire so obvious its kind of funny.
Brandon Stocks
½
totally weird movie. It starts out with a sock hop frat boy making proposals to his girlfriend. Then a vampire attacks, I think. The police officer who has figured out that its a vampire who is committing all the crimes ends up with his head smashed in the vampire's grave. Meanwhile the woman from the first attack gives birth to a baby that is not alive, but grows who up. Then that kid turns into a forty year old night college student who is taking his vampire father's stupid class on the occult. There is a party and some sex. Then this one girl who is in the occult class begs to become a vampire but ends up dead in the shower. Then there is a seance. After a short possession, the vampire kid takes his new girlfriend upstairs to make it while the rest of their friends are eaten by the vampire. All the noise makes the vampire kid come running. He fights his vampire dad and stakes him. After this the vampire kid turns into a full blown hungry vampire who eats his best girl. Or at least that is what the ending leaves us to believe. Weird movie.
R.John Xerxes
Grave of the Vampire Quotes
There are no approved quotes yet for this movie.