The Great Lie
(1941)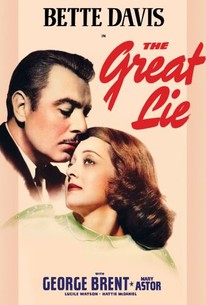 AUDIENCE SCORE
Critic Consensus: No consensus yet.
Movie Info
The Great Lie is Soap Opera Deluxe from Bette Davis' peak period at Warner Bros. Davis plays a socialite who is madly in love with playboy aviator George Brent. Brilliant but bitchy concert pianist Mary Astor (who won a well-deserved Academy Award for her chain-smoking histrionics) is also in love with Brent, going so far as to marry him in a secret ceremony. When it appears that the marriage may be invalid, Astor is too devoted to her art to take the necessary corrective steps, so Brent returns to Davis, who is too proud to be picked up on the rebound. While flying an important government mission, Brent disappears and is presumed killed. Davis meets Astor, who had been impregnated by Brent before the question of their marriage's validity came up. Since her first marriage had been in secret, Astor is terrified that her career will be ruined by the sudden appearance of an unexplained child, so Davis, out of love for Brent, agrees to claim the baby as her own. When Brent, who of course has not been killed after all, resurfaces, Astor demands that the child be returned to her, hoping that the child will forever bind Brent to her. Davis tells Brent the whole sad story, whereupon our long-absent hero declares his love for Davis and his willingness to give up the child to Astor. At the last moment, Astor returns the kid to Davis and Brent, and the film ends on a splendiferous musical chord courtesy of overworked Warner Bros. composer Max Steiner. In lesser hands, The Great Lie would have been outrageous hokum, but somehow Bette Davis and Mary Astor (and, to a lesser extent, George Brent) make you want to believe that the story has some resemblance to Real Life. The film was based on the novel January Heights by Polan Blanks, which was not governed by Hollywood censorship and thus didn't have to bend over backwards to "legitimize" the baby in the story.
Rating:
NR
Genre:
,
Directed By:
Written By:
In Theaters:
On DVD:
Runtime:
Studio:
Warner Bros. Pictures
Critic Reviews for The Great Lie
All Critics (3) | Fresh (1) | Rotten (2)

This Edmund Goulding-Bette Davis soap opera has achieved notoriety for several reasons, a presposterous plot, Mary Astor's one and only Oscar, and catfights on the set between the two ladies!


Ozus' World Movie Reviews
Audience Reviews for The Great Lie
Bette Davis not playing a COMPLETE bitch!??? That's Mary Astor, being the drunken floozy with an acid tongue and loose morals. "Women's picture" with a little bite.
Myles McHale
Mary Astor shines bright in this very well-made production from the prime Bette Davis years at Warner Bros.
Eric Jenkins
More Histrionics From the Queen of Melodrama From before she was born, I have always been very firm on one point about my daughter. I, the biological parent, am her mother. Pat, the woman who adopted her the day after she was born and has cared for her all her life since, is her mom. I find this to be an important distinction. Of course, I am telling you this seventy years after this movie was made. What adoption is and isn't has changed a great deal in the last seventy years, as it what's acceptable as a relationship between two consenting adults. After all, it was vitally important that the mother of the child in this movie believe she was married when the baby was conceived. The idea that two adults could have a sexual relationship outside matrimony was not allowed to be presented on the screen in the United States at the time, much less the idea that a single woman could make the choice whether to raise her baby or not. One morning, Pete Van Allen (George Brent) wakes up to discover that he drunkenly married Sandra Kovak (Mary Astor) the night before during her party to celebrate the finalization of her divorce from her previous marriage. Only the celebration is premature and the marriage is invalid. Also, he has spent years in love with Maggie Patterson (Bette Davis), who owns a small farm down in Maryland. So when he finds out that he isn't married after all, he goes off and marries her. Maggie sets him up with her uncle (Charles Trowbridge), a senator, because Pete is an expert in aviation and cartography. With the war coming up and all, it's about to be very important. He ends up flying down to Brazil for reasons I don't entirely understand, and his plane is lost. Only it turns out that, during that brief and invalid marriage, Sandra got pregnant. Maggie makes a deal with Sandra; she can't stand to lose Pete and his baby, so she will give Sandra money for her retirement, and Sandra will give her the baby. Actually, it's an extremely sensible arrangement, and the problem is that no one can say anything. Maggie takes Sandra off to a ranch in Arizona to give birth, because no one can know that the baby isn't Maggie's. They are trapped alone together in a cabin with no electricity. To me, it makes a ton more sense for it to be open. After all, it's not as though no one knew about the relationship. Honestly, it's not as though the math wouldn't occur to anyone. Yes, the window is a bit narrow, but not that narrow. And really, why would a sensible woman go into the desert to give birth if she wasn't looking for secrecy? No, being able to say, "I am adopting my husband's baby" would be eminently more sensible. And in fact, it's the most practical solution. Sandra really doesn't lead the kind of life which would be conducive to proper care and rearing of a child. Maggie, even without Pete, is completely capable of it. In part, this is because she has the support of Hattie McDaniel. It's eventually questioned why she didn't bring "Violet or Aunt Ada" (Lucile Watson) with her, but it's obvious that the only real choice was Violet. I mean, we aren't looking at her having diapered three generations of that family's babies, but she's clearly a woman who knows what she's doing when it comes to children. That's leaving aside that having paid help makes child rearing easier even when the help hasn't been doing it for decades. Hattie McDaniel famously said that she'd rather play a maid than be one, and I've never been able to blame her. What's more, as was so often the case with Hollywood maids, Violet is hypercompetent and a member of the family. She's protective of Maggie when Maggie needs protection, and she helps Maggie fly when Maggie has a chance to spread her wings. She is, in short, Hattie McDaniel in a Hattie McDaniel role, and anyone who can't raise a child with her help shouldn't be allowed near one. On the whole, though, this is a histrionic melodrama and probably would be even for someone able to look at it with a period sensibility. I can't, of course; it hits too close to home. However, this is a story about a woman who has let herself be put into a ridiculous situation because she is afraid of what honesty would mean. She needs the baby to be hers, because she needs to know that she is the one with the connection to her husband. She needs her relationship with her husband to be a certain way, even though it's quite obvious that circumstances didn't allow that relationship to be that way. She wants the world to be other than it is. When it doesn't go the way she wants it to, she pretends. Unfortunately, that doesn't quite work out, even though it suddenly seems as though she could have everything she ever wanted. The real world intervenes again. It always does, in the long run, and the "great lie" cannot stay told. You kind of wonder what happened to these people even as little as ten years down the road.
Edith Nelson
The Great Lie Quotes
There are no approved quotes yet for this movie.