The Great St. Louis Bank Robbery
(1959)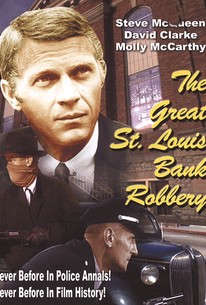 AUDIENCE SCORE
Critic Consensus: No consensus yet.
The Great St. Louis Bank Robbery Videos
The Great St. Louis Bank Robbery Photos
Movie Info
Three career criminals and a young getaway driver (Steve McQueen) meticulously plan a bank heist. Every move is choreographed until the day of the actual robbery, based on a true story.
Rating:
R
Genre:
,
Directed By:
Written By:
In Theaters:
On DVD:
Runtime:
Studio:
United Artists
Watch it now
Cast
Critic Reviews for The Great St. Louis Bank Robbery
There are no critic reviews yet for The Great St. Louis Bank Robbery. Keep checking Rotten Tomatoes for updates!
Audience Reviews for The Great St. Louis Bank Robbery
Biopic based on the actual events and featuring actual places and some people from the title bank robbery. McQueen steals the show in a lesser role as a group of friends grapple with what is important in life.
Tim Henry
This Movie is one of 10 in a Crime Wave Collection put out by Brentwood Home Video. The decent degree of realism plus one of Steve McQueen's earlier starring movie roles help make this crime feature worth watching. The story has some pretty interesting aspects, and it adds to the realism with the well-publicized inclusion of many of the actual police officers who were involved in the original events on which the movie is based. On the other hand, the rest of the cast does not come up to McQueen's stature as performers, and at times some potentially powerful scenes lack a little something as a result. The setup has McQueen's character hired as the getaway driver for a gang of bank robbers. Their careful planning is thrown into complications by an old girlfriend of George's (McQueen), whose brother is also part of the gang. The resulting tensions, plus the various unexpected developments as they carry out their plan, add some interest to the basic story. Many of the scenes are written and filmed rather well, although at times the movie expends some screen time on less interesting material. McQueen does a good job with an unsympathetic character, and the supporting cast is mostly solid. Molly McCarthy is believable and generally sympathetic as Ann, but she does not always give her character a lot of depth. Crahan Denton gives the gang's boss a good, solid persona at the beginning, but afterward the character remains rather one-dimensional even when there are chances to bring out some interesting characteristics. The straightforward, almost documentary style cinematography works pretty well, and makes a good combination with the downbeat story. Despite a few things that could have been better, this is not bad at all for its genre, and it is certainly worth seeing. 3 Stars 1-22-14
Bruce Bruce
Super Reviewer
A very young Steve McQueen makes this slow paced film shine. While the film itself is shot like a high school class project, the careful detail about robbing the Southwestern Bank (which is still there btw) is worth watching. Stay to the end which is very good and worth the wait. SEE this remix video, creatively done by some fan: http://www.youtube.com/watch?v=ZFOVbPTXFoc A gang's plans for a St. Louis bank robbery are complicated when the sister of one of the thieves starts voicing her well-founded suspicions. She gets an awful and horrifying fate just trying to save the man who left her, Steve McQueen. Early scenes show Tower Grove Park, still there too, not that far away. St. Louis movie buffs probably do not know this film exists, but they should. Familiar landmarks all over the place. Local PBS station KETC did a special on the movie in 2007. The meticulous preparation for the robbery, (not the safe, just the "till", or money drawer of the clerks) is unusual and is impressive. This preparation for the heist is most unusual to see in a film. The acting is pretty rank, but doesn't matter. Steve McQueen shows himself as an ex football hero. He finds himself slowly drawn into the gangster world more and more. Finding himself in need of just $50 more, he asks his ex girl for that amount in a check, supposedly for Gino. The plan starts to unravel when she sees Gino coming out of a restaurant across the street from the bank. When questioned about it George later reveals he's involved with robbing the bank. There is a romance angle to this crime drama. Steve McQueen has a love interest in a gal who he sees from time to time in the film. She tells him, "What are you?" He says: "I'm just driving a car". Of course, he's driving the get-away car the robbers will use. There is a chance to have $20,000 from the bank heist. She thinks about ratting him out rather than seeing him turn gangster. There is no soundtrack, except for an occasional tune "I'm Leaving on a Midnight Train" sung skiffle, rock-a-billy style. It gets tiresome hearing it over and over again. One reviewer wrote: "...this story is based on an actual incident and once you're in, we can only sit and watch as McQueen does his best to fill in the role of the by-gone athletic hero gone bad. The men he joins lack cohesiveness and each brings his own problem to a crime, fraught with pitfalls. But each needs their $20,000 share, so to hell with the dangers. Any fan of the late McQueen can readily see the 'diamond-in-the-rough' the young star is and realize what an exceptional gem, he will become. Unlike the movie itself which left much to be desired on nearly every level, Steve McQueen rises above it and we almost wish we could follow him to a sequel of this story." NOTES about the film: 1 The Eads Bridge and McKinley Bridge are shown in the film and still exist today. 2 While passing over the McKinley Bridge, the then new "Admiral" floating steamer boat is seen. That huge landmark ship is today destined for the scrapyard after years of rehabilitation and new uses, lately a gambling casino venue called The President Casino, now out of business in 2011. 3 The film is based on a 1953 bank robbery attempt of Southwest Bank in St. Louis. The film was shot on location in St. Louis and some of the men and woman from the St. Louis Police Department, as well as local residents and bank employees, play the same parts they did in the actual robbery attempt. 4 In the Hollywood adaptation, the real police officer Mel Stein played himself. He recalled exactly what he felt and how he remembered his fellow officers. It is available on Youtube. 5 This story is based on a true incident. Many of the St. Louis Metropolitan Police officers and bank employees play themselves doing what they did during the actual robbery. Main cast Steve McQueen as George Fowler Crahan Denton as John Egan the Boss David Clarke as Gino, Ann's Brother James Dukas as Willie the driver Mollie McCarthy as George's Ex Girl Martha Gable as Eddie's Wife Larry Gerst as Eddie Directors: Charles Guggenheim, John Stix Writer: Richard T. Heffron (screenplay) Distributed by United Artists Release date(s) 1959 Running time 89 min. Black and White. See the entire film at: http://www.archive.org/details/Saint_Louis_Bank_Robbery .
monsieur rick
Discussion Forum
Discuss The Great St. Louis Bank Robbery on our Movie forum!
News & Features