The Great White Hype
(1996)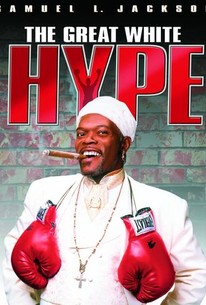 Movie Info
Boxing is more than just a sport -- it's also a business and a con game in this satirical comedy. Rev. Fred Sultan (Samuel L. Jackson) is a shrewd boxing promoter and manager whose meal ticket is heavyweight champion James "The Grim Reaper" Roper (Damon Wayans), a fighter whose skill and confidence significantly outstrips his intelligence. While the top-ranked contender for Roper's title is Marvin Shabazz (Michael Jace), Sultan isn't too keen on the idea of Shabazz fighting Roper -- it seems that both fighters are black, and Sultan's figures show that mixed race matches stir up a lot more media attention and pay-per-view customers. Eager to find a white challenger for Roper, Sultan digs up Terry Conklin (Peter Berg), who won a Golden Gloves fight against Roper many years ago but is now out of the game and fronting a rock band called Massive Head Wound. Thanks to a few bribes and a couple of fixed fights, Sultan is able to arrange for Conklin to be next in line to battle "The Grim Reaper." However, Conklin is taking his renewed career as a boxer quite seriously, while Roper, convinced that Conklin doesn't stand a chance, has let himself go and gained a lot of weight. Suddenly Sultan realizes that Roper might just lose the piece-of-cake fight he's so carefully arranged, while journalist Mitchell Kane (Jeff Goldblum) smells a rat in Conklin's sudden rise to ranking status. Jon Lovitz, Cheech Marin, and Corbin Bernsen highlight the supporting cast, while members of the well-regarded alternative rock band Local H appear as Massive Head Wound.
People Who Like this movie also like
Critic Reviews for The Great White Hype
Audience Reviews for The Great White Hype
First off DAMN Salli Richardson looked good. Kind of reminded me of a young Pam Grier. Typical comedy sports movie. Heavy in the racial tones making that about so much. Funny the amount of stars in this thing. I don't get how they ended it like they did when it felt more like the middle of a movie. Complete crap ending. I guess maybe it was interesting in its day but I was failed to be impressed.
Aurelius Duchtius
Super Reviewer
½
A fun dark comedy from HBO films.
Tim Salmons
Super Reviewer
The Great White Hype Quotes
There are no approved quotes yet for this movie.