Green River
(2008)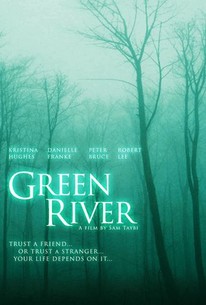 AUDIENCE SCORE
Critic Consensus: No consensus yet.
Movie Info
A woman who wants to bring a murderer to justice faces more danger than she expected in this independent thriller. Charisma (Danielle Franke) has never been able to come to terms with the disappearance of her sister years ago, who is believed to have fallen victim to a serial killer while camping in the woodlands of Montana. Determined to find some answers, Charisma and her best friend Allison (Kristina Hughes) decide to travel to the place her sister was seen in hopes of uncovering some clues to her whereabouts. But paranoid and panicky Allison isn't much help, and their nerves aren't eased much when they're told about a strange religious cult in the area at a general store and are given a hard time by locals at the town's diner. As Charisma and Allison make their way back to the cabin they're rented, they're followed by Jack (Peter Bruce), who was one of the only people at the restaurant to be helpful to them. Jack seemed to be familiar with the story of the fugitive serial killer, and Charisma thinks he might either be the murderer or know how to find him; should she confront the danger in hopes of learning the killer's identity, or follow Allison's suggestion that the should get out while they still can?
Critic Reviews for Green River
There are no critic reviews yet for Green River. Keep checking Rotten Tomatoes for updates!
Audience Reviews for Green River
I am undecided about this and need to give it another viewing. Green River is about two girls who attract a lot of attention from weird locals when they travel into some mountains, presumably in western South Dakota. This would have to be either the Black Hills, which it doesn't look like, or further west in the foothills of the rockies in Wyoming or Montana, which it does look like. Anyway, this bit of geographic inaccuracy aside, the area is presented as being like West Virginia in Wrong Turn. The rural area is revealed to have a high incidence of missing women and it is hinted at that satanism may be to blame. They had my attention at this point. Before the girls even get to their family's long unused mountain cabin, they are followed by some creepy questionable weirdo, and odd things start to go wrong, such as their car battery being dead, etc. etc. Eventually the girls square off with the shadowy character and one of the pair wants to torment and kill him. This is where the story becomes confusing. The crazier girl of the two can't just kill the guy and be done with it, and the other won't stop her, but won't take decisive action to end the ordeal. It is hinted at that the guy might be some sort of cop, but he has ample opportunity to explain himself and never does. The plot became rather far-fetched at this point and the filmmakers lost my attention. I let the movie run in the background while I did some computer maintenance. I started watching again at the end, in which it appears that movie actually had something supernatural to say, but the conclusion was a bit ambiguous and murky, thus the need to re watch it. I think that the writer had a good idea here, but wasn't sure how to present it, or the director tampered with the script. When I get the opportunity I will rent this one again and give it another chance as it looked like it might be better than I was giving it credit for.
Steve Strange
Super Reviewer
Green River Quotes
There are no approved quotes yet for this movie.
Discussion Forum
Discuss Green River on our Movie forum!