Green River Killer
(2005)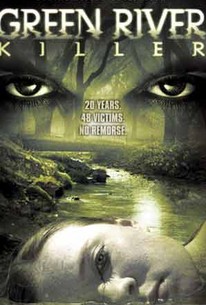 AUDIENCE SCORE
Critic Consensus: No consensus yet.
Movie Info
Boogeyman director Uli Lommel travels back to investigate one of the most brutal tales in the annals of true crime in this cinematic investigation into the murderous crimes of serial killer Gary Ridgeway (aka The Green River Killer). In the early 1980s the citizens of Seattle and Tacoma, Washington lived in constant fear as the specter of death loomed in every shadow. With nearly fifty victims to his name, The Green River Killer was one of the most feared serial killers in modern history, his horrific crimes lingering in the minds of his victim's families even after his arrest. Now Ridgeway's story comes to the screen to frighten those who remember the chilling headlines relating his crimes, and offer greater insight into the demented mind of a madman.
Critic Reviews for Green River Killer
Audience Reviews for Green River Killer
Good story, It's just the way they filmed it was horrible.
Jacob Palacio
Super Reviewer
½
Not entirely sure what to make of this film, I've been wanting to see it for a long time now. Firstly I think the acting was pretty amateur, the way they chose to tell this story was also quite boring, however there were a few very realist gory parts. Of course it should be remembered that this is based on a true story and I'm sure the film delivers most of the facts and that that is more important that it being some big blockbuster movie VERDICT: Unless you're interested in the actual case, it's probsbly not one I would recommend
Lady D'arbanville
Super Reviewer
Well this movie is just an amateurish attempt at making a serial killer movie. Those attempts to make a good serial killer movie failed miseraly. It's directed by the same guy who directed Zodiac Killer. He also made a BTK movie which I was planning on renting but I saw his name on it and I just skipped. I honestly believe that it took 20 dollars to make this movie, because this movie looks exactly like a home movie not a real movie. The acting is bad, the sex scenes are even worse. And you know when you screw up a sex scene that you have problems. This guy is probably worse than Uwe Boll cause this guy has been making movies for 35 years or so and he's only managed to get worse time and time again. Uwe Boll at least has an excuse that he's new to the business, but Ulli is just horrible. Ulli has gone from bad to worse. At least Uwe Boll is making baby steps (REALLY small baby steps) to make his movies just the teensiest bit better the nex time around, but Ulli has just gotten progressively worse every time he makes a movie. No one should watch this movie not even if you're fucking blind.
Jesse Ortega
Super Reviewer
Green River Killer Quotes
There are no approved quotes yet for this movie.