Greg Giraldo: Midlife Vices
(2009)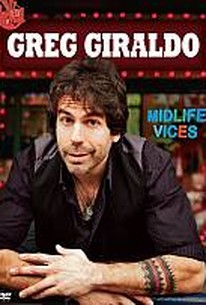 AUDIENCE SCORE
Critic Consensus: No consensus yet.
Movie Info
Comedy Central Roast regular Greg Giraldo isn't shy about tearing into his fellow funnymen (and women) at the network's frequent specials, and he turns his wicked wit to a variety of topics in this live show. In MIDLIFE VICES, Giraldo extols the virtues of drinking in your 40s, praises New York's Puerto Rican Day Parade, questions Barack Obama's smoking habit, and leaves no comic target unscathed. This release also includes the pilot of the series ADULT CONTENT.
Rating:
NR
Genre:
Directed By:
On DVD:
Runtime:
Audience Reviews for Greg Giraldo: Midlife Vices
Always great. Probably his best outside of the roasts.
Sunil Jawahir
Super Reviewer
Greg Giraldo is best known as one of the many panelists for the Comedy Central roasts. For the past seven years, he has roasted everyone from Chevy Chase to Pamela Anderson in scathing five-minute onslaughts of insults. Now, Comedy Central has released his first solo stand-up show, the 67-minute DVD special Midlife Vices. Midlife Vices may be premature celebration. While there seems no doubt he is hitting middle age, he doesn't seem ready for his own solo performance. While sharp and cuttingly quick as a panelist in short, premeditated attacks, he seems to wander errantly when left to fill the time for an hour. He switches from topic to topic with little transition, and at times breaks down into what seems like nervous babbling. He even stops near the end to point out someone sleeping through his show in the third row. Why he chose to bring this to everyone's attention is beyond comprehension. He attempts to treat the incident the way a more seasoned comedian would return fire against a heckler, but fails to earn many laughs. The sleeping patron barely cracks a confused smile. There are a few bright points to his routine. Highlights include a tangent about choosing the right marsupial sex partner and... well, that's pretty much his funniest routine. He spends too long on subjects comedians exhausted 20 years ago, such as hotel rooms and air travel, and even uses several routines that have been part of other stand-up specials. How many comedians have wondered why maids ignore the "Do Not Disturb" sign on a hotel room? The answer is too many. The costume and set design choices for his special seemed poorly considered as well. Standing in front of a black background with dark blue curtains, he wore black with dark blue pants. At times, it almost seemed like his head and arms became disembodied. The DVD, available October 20, 2009, contains bonus material including a TV pilot called Adult Content with Greg Giraldo from 2007 and a shorter Comedy Central stand-up special.
Mike Mercadante
Discussion Forum
Discuss Greg Giraldo: Midlife Vices on our Movie forum!