Gremlin
(2017)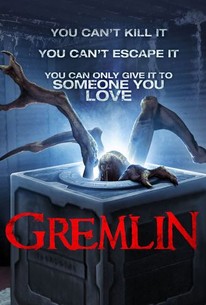 AUDIENCE SCORE
Critic Consensus: No consensus yet.
Movie Info
Adam receives a mysterious box from a relative containing a creature that will kill everyone he cares about. The only way to be rid of the curse is to give the box to someone he loves. As the ominous timer on the box counts down to its end, he can only imagine the horrors that await. Does he give the box away to save his family, or unleash a monster upon humanity? He can't destroy it. He can't escape it. He can only give it to someone he loves...
Critic Reviews for Gremlin
All Critics (3) | Fresh (0) | Rotten (3)
There are definitely worse things you could do with a spare 90 minutes, but there are millions of better things you could do as well. File under "passes the time, but you wouldn't want to watch it again".
The worst sin a film can commit is being mediocre and I think that is what bothers me so. I can't pinpoint a single remarkable element, positive or negative about this vapid waste. If someone tries to give you this box, do not accept it!
Bellgardt gives birth to a bummer, more content to numb his audience than thrill them.
Audience Reviews for Gremlin
My roommate and I decided to watch a movie tonight. I asked her if she wanted to watch The Dark Tower, 'cause I hadn't seen it yet. She said "No, I've already seen it and it's the worst movie of the year". So we watched this instead. Once it was over, her only comment was "We should have watched The Dark Tower..."
Gremlin Quotes
There are no approved quotes yet for this movie.