Grayeagle
(1977)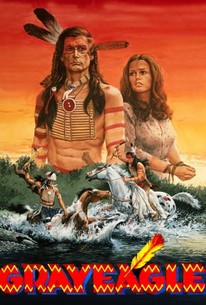 AUDIENCE SCORE
Critic Consensus: No consensus yet.
Movie Info
Grayeagle is a barely disguised reworking of John Ford's The Searchers, with Ford stock company alumnus Ben Johnson essaying the John Wayne role, and Lana Wood playing a character not unlike the one portrayed by her sister Natalie in the earlier film. The major difference is that Grayeagle is told largely from the Indians' point of view. Johnson plays John Colter, who devotes his life to tracking down Cheyenne brave Grayeagle (Alex Cord), the kidnapper of his daughter Beth (Lana Wood). One of the new plot wrinkles is the revelation that Cheyenne Chief Running Wolf (Paul Fix), and not Colter, is Beth's real father, so who's rescuing whom from what? Other veteran performers participating in Grayeagle are Jack Elam and Iron Eyes Cody, while producer-director-writer Charles Pierce also shows up in a small role.
Rating:
PG
Genre:
, ,
Directed By:
Written By:
In Theaters:
Runtime:
Studio:
MGM
Audience Reviews for Grayeagle
½
It is the blood and dust of my ancestors. In 1858 Montana a woman is kidnapped by a notorious Indian named Grayeagle. He has an agenda for the girl and races her across the plains; meanwhile, the father of the daughter spreads rumors of the kidnapping and hunts down Grayeagle. Why did Grayeagle kidnap the girl and will the father stop him before he achieves his goal? "You could tell me something." "Let's go!" Charles Pierce, director of The Legend of Boogey Creek I & II, Chasing the Wind, The Evictors, Sacred Ground, The Town that Dreaded Sundown, and The Winds of Autumn, delivers Grayeagle. The storyline for this picture is very interesting and contains some nice twists and interactions. The acting is better than you may anticipate and the cast includes Ben Johnson, Jack Elam, Paul Fix, Alex Cord, and Lana Wood. "It is a good day to die." I came across this on Netflix and decided to add this to my queue. This was a fun and well done picture that was definitely worth a viewing. It is far from a classic or must see western, but I do recommend this picture to fans of the genre. This is an above average addition to the western genre. "I'll never understand why some folks do what they do." Grade: B-
Kevin Robbins
This one is a must-see for Lana Wood fans like me. How big of a Lana Wood fan am I? Well, I plan on going to the 2014 Mid-Atlantic Nostalgia Convention just to meet her. About the Con (if you might want to go too): "Lana Wood, is scheduled to appear at the 2014 Mid-Atlantic Nostalgia Convention, Sept. 18-20, in Hunt Valley, Md., at the Hunt Valley Wyndham Hotel. Also scheduled to appear are Piper Laurie, Veronica Cartwright, Angela Cartwright, Lee Meredith, George Lazenby, and more. More information is at http://midatlanticnostalgiaconvention.com."
Morgan Sandberg
Normally not a Western I'd watch but I picked it up at the local thift store for $1 on VHS so I couldn't pass it up.It's not a movie I would want to add to my DVD collection but it was an alright flick & I think I got my $$$'s worth.I wanted to like Greyeagle more then I did but for some reason I didn't.I don't know if it's because it wasn't the usual shoot em up Western I prefer or what.It felt more like something to watch just because I was in the mood for a Western.My favorite part of the movie was the final scene.In the end, Everything worked out the way I wanted it to
Brody Manson
Super Reviewer
Grayeagle Quotes
There are no approved quotes yet for this movie.