Greyfriars Bobby
(1961)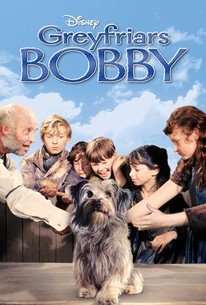 AUDIENCE SCORE
Critic Consensus: No consensus yet.
Movie Info
Fact-based version of "Challenge to Lassie," about a dog given freedom of the city in 19th-century Edinburgh. Laurence Naismith. Old Jock: Alex Mackenzie. Brown: Donald Crisp. Mrs. Brown: Kay Walsh. Maclean: Duncan Macrae. Farmer: Gordon Jackson. Provost: Andrew Cruickshank.
Rating:
NR
Genre:
, ,
Directed By:
Written By:
In Theaters:
On DVD:
Runtime:
Studio:
Walt Disney Productions
Critic Reviews for Greyfriars Bobby
There are no critic reviews yet for Greyfriars Bobby. Keep checking Rotten Tomatoes for updates!
Audience Reviews for Greyfriars Bobby
½
this is a well done Disney picture, guaranteed to melt the heart of any animal lover. Set in Edinburgh at the turn of the century, the film follows the adventures of a cute little Skye terrier named Bobby. When his elderly master dies, the loyal dog refuses to leave the grave. Eventually Bobby is persuaded to venture into town and play with the local children, but at night he runs back to the cemetery and his masters grave. Word of the dogs odd behavior spreads throughout Edinburgh, and Bobby becomes quite a local celebrity,it is based on a true story this movie. a real tear jerker~!
A Walt Disney Film, note I said Walt Disney, made when you could trust a Disney Movie to be free from today?s filth seen on the screen. This is a story about a small little dog, who's long time friend passes away, and the little dog sits on the old mans grave every night, despite everyone's attempt to keep him from doing it. Movie was made in 1961 when just about anything Disney touched turned to gold. This is a great story for animal lovers and Children under 13. I have to give it 4 stars.
Bruce Bruce
Super Reviewer
It never ceases to amaze me how Hollywood can take the most depressing stories and make them heartwarming. I mean, we're not even talking [i]The Little Mermaid[/i] ending changing, here. It's selective story-telling. Choose when to begin and when to end, and you can make things work out right. Cut early. Start late. Add a half-dozen little kids of cheery disposition. Let two people become friends after a long rivalry. Sure, the story may be centered around a death and a pathetic fixation, but bring in the love of a small town, and you've got the makings of a great story. A story for little kids, even. In the old town of Edinburgh, near Greyfriars Kirk, there was a man called Auld Jock (Alex Mackenzie). He had a dog called Bobby. Many others were fond of the dog, and a little girl thought of Bobby as her own, but Bobby thought he was Old Jock's. One day, Old Jock died of pneumonia. Bobby spent every night for the next fourteen years sleeping on Old Jock's grave. Everyone in the area loves him, especially the children. A local innkeeper, Mr. Traill (Laurence Naismith) feeds him. The sexton, James Brown (Donald Crisp), tries to keep Bobby away but eventually realizes that nothing, not even death, will separate Bobby from his beloved master. However, Bobby is declared an ownerless dog and will be put to sleep if someone is not found to pay for the license; he certainly isn't supposed to be roaming the streets on his own. This is, of course, based on a true story. How much time Bobby actually spent on the grave is a matter of some debate, but the fact that he remained faithful to his master even in death is not. Indeed, he is buried just outside Greyfriars Kirkyard, and he'd be buried in it were it not for the belief that no animal should be buried in consecrated ground. There's a statue of him there, and it attracts many visitors--probably mostly dog lovers. There was even, bizarrely, a Lassie movie featuring the story, despite the fact that Bobby was a Skye terrier, which is not remotely a collie. In another, more recent version of the story, Bobby was played by a West Highland white terrier, which is at least closer, but many people still objected. People really care about this story. Bobby has been, and no doubt will continue to be, a symbol of devotion. However, in this version, Auld Jock hardly matters. We practically ignore his death, because death is scary to little kids when it looks real. He's sick, then he's being buried. What we are supposed to care about more are the old men and the children who care so much about him. And it is touching; I'll certainly give it that. I don't even like dogs, and I teared up. I knew, of course, that they wouldn't put Bobby to sleep, and not just because I already knew the story. (And, of course, had seen the movie on the Disney Channel in my childhood.) You can't kill the dog in a Disney movie. It's simply unheard-of. But you must kill Auld Jock in order to have a story at all. This is not the best of the live-action Disney movies. (One of these days, I will think about it and let you know what I think that is.) Its story is simplistic, not even as complex as [i]The Three Lives of Thomasina[/i]. (Which I would like better anyway, because cat.) Its filming is nothing special; until perhaps a decade and a half later, the filming of live action Disney movies wasn't, really. (Though some of them already had pretty interesting special effects.) It's cute, and it's effective, though. Certainly it's better for little kids than a lot of the other stuff that's made for little kids.
Edith Nelson
Greyfriars Bobby Quotes
There are no approved quotes yet for this movie.
Discussion Forum
Discuss Greyfriars Bobby on our Movie forum!