Grim Prairie Tales
(2000)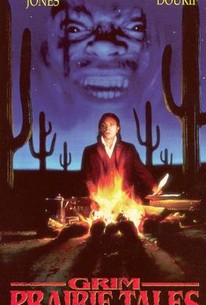 AUDIENCE SCORE
Critic Consensus: No consensus yet.
Grim Prairie Tales Videos
Grim Prairie Tales Photos
Movie Info
An entertaining hybrid of Amicus-style horror anthology and gritty low-budget western, this first-time effort from writer-director Wayne Coe succeeds where many such genre-bending attempts have failed. The quartet of uneven but well-mounted stories are spun around a desert campfire by grizzled, menacing bounty hunter Morrison (a rousingly hammy James Earl Jones) and wet-behind-the-ears city slicker Farley (Brad Dourif). Morrison starts off with the tale of an Indian tribe's ritual revenge against the drunken cracker who desecrates their sacred burial ground; When Farley seems interested but unfazed, Morrison follows up with the more visceral story of a Good Samaritan who succumbs to temptation while rendering aid to a pregnant woman, leading to a particularly disgusting (though definitely original) demise. Appalled by the storyteller's lack of taste, Farley counters with a down-to-earth morality tale involving a prairie settler's young daughter who witnesses her father's horrifying act of hate, realizing that the man she trusted with her life is a very human breed of monster. Morrison acknowledges his companion's skill but offers another violent story according to his own idiom -- that of a slick gunfighter who gets his comeuppance by his own hand after winning a deadly competition. The stories feature fine acting and direction but are ultimately overshadowed by the engaging framing story and lack much of the dramatic payoff of their earlier British counterparts.
News & Interviews for Grim Prairie Tales
Audience Reviews for Grim Prairie Tales
½
While age has not been very kind to this horror anthology, it still has redeemable qualities in leads James Earl Jones and Brad Dourif, its gritty wild west setting, and a woman with a black hole for a vagina.
Schmoog Lebowski
Two travellers, one a well to do young clark on the way to a reunion with his wife, the other a scruffy, feral bounty hunter meet at sundown on a lonely prairie and agree to swap stories to pass the time. Honestly I watched it only once and it was enough.
½
Grim Prairie Tales is a one-of-a-kind, unique film in that it is a Western Horror Anthology film that focuses much more so on the western and dramatic tones of storytelling about the life in those times with minimal horror undertones. The stories within the film are interesting, ranging from an old grump unwisely traveling through a Native American Cemetery, a kind gent giving a helping hand to the wrong woman, a family nearly torn apart by deadly secrets, and finally, a story about gunfighters dueling for a prize they both don't bargain for. The stories are decent, though sometimes delving into the mediocre. What really makes this an excellent film are all of the scenes and the chemistry shared between leads Brad Dourif (playing a city boy traveling to be with his wife) and James Earl Jones (a haggard, old bounty hunter). The two work very well with each other and are really the core of this story, sharing the most entertaining and engaging moments. I loved every scene they were in together. Overall, good film.
Jason Duron
Grim Prairie Tales Quotes
There are no approved quotes yet for this movie.
Discussion Forum
Discuss Grim Prairie Tales on our Movie forum!