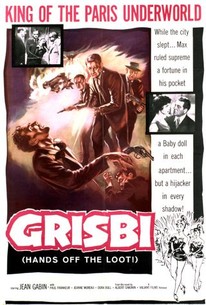 Grisbi
1954, Crime/Drama, 1h 35m
25 Reviews
1,000+ Ratings
Rate And Review
Movie Info
Gentleman gangster Max (Jean Gabin) and his partner, Riton (René Dary), pull off their last, most successful heist and find themselves comfortable enough to retire in the style they enjoy. However, Max confides the details of the theft to his younger mistress, Josey (Jeanne Moreau) -- who has secretly taken up with ambitious young rival gangster Angelo (Lino Ventura). Angelo then has Riton kidnapped and demands the stash of gold as ransom, which threatens Max's dreams of the perfect retirement.
Genre: Crime, Drama

Original Language: French (Canada)

Director: Jacques Becker

Producer: Robert Dorfmann

Release Date (Theaters): wide

Release Date (Streaming):

Box Office (Gross USA): $95.8K

Runtime:

Distributor: Valiant Films, Rialto Pictures, UMPO
Audience Reviews for Grisbi
Gabin's comeback to the gangster genre is a powerful examination of the constant obstacles in the life of a former criminal who has waited for a long time for retirement, and how the consequences of what was once a forgotten past comes abruptly to haunt the present. As usual as the plot may sound, this approach was an unusual turn, especially in the 50s, the decade I'd catalogue as the best for crime French films. We get an engrossing and absorbing look into those other human details that concern even a gangster, and Becker's direction is a marvellous one for the job. Be it as it may, Gabin is the only actor in history that can have a huge sex appeal despite his age, wear pajamas and smoke a cigarette with so much style, and be a terrific face slapper, all at the same time. Now that's what being a cinema legend is all about! 99/100

Very procedural. I feel like this must have had a fair amount of influence on later Melville. But where the procedure humanizes characters here, it usually has the opposite effect in Melville.

an excellent crime story. gabin plays a solid lead and scala is sexy in her limited role in a film that caught me by suprise. only loosely a heist film, it is fairly similar to much of melvilles great work. im glad i bought the film because i know i will rewatch it many times.

There are more worries in the life of a gangster besides money. There's love, loyalty, friendship, and the most implacable killer of all: time itself, the way it undermines and vanishes every human being no matter how strong or resolute he/she used to be. Jean Gabin plays the elegant and charismatic Max, an aging criminal mentor who finds his way to retirement full of bumps. After pulling out the heist that Max thought would end up his occupation for good, Max's best friend Riton tells his girlfriend (a very young Jeanne Moreau) about their last job. Unfortunately, this leak of information given by the incompetent Riton leads to his kidnapping by Max's competitor Angelo (Lino Ventura) who will demand their last job's loot for ransom. It will all be decided in a tense and masterfully shot gun battle. An engrossing masterpiece with phenomenal direction, acting and cinematography.
See Details