Group Sex
(2010)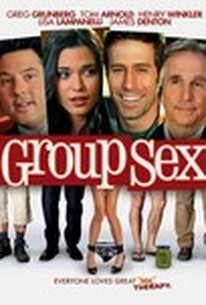 AUDIENCE SCORE
Critic Consensus: No consensus yet.
Group Sex Videos
Group Sex Photos
Movie Info
A single guy discovers that sex addiction isn't nearly as exciting as it sounds after following a beautiful girl into a group therapy session, and gaining a whole new crop of dysfunctional friends in the process. ~ Jason Buchanan, Rovi
Rating:
R (for strong crude sexual dialogue, sexuality, nudity and language throughout.)
Genre:
Directed By:
Written By:
On DVD:
Runtime:
Studio:
Cast
Critic Reviews for Group Sex
There are no critic reviews yet for Group Sex. Keep checking Rotten Tomatoes for updates!
Audience Reviews for Group Sex
I'm marking this as 5 stars, not because it's actually a 5 star movie, but because I'm trying to raise the average rating. In reality I might give it 3 stars, which is much higher than the average. I'm not sure why pro critics won't go near this thing, but this is one of the best movies I've ever seen on Comedy Central. I know that caveat doesn't help, but it is incredibly refreshing to see a well-acted, well-paced, dialogue-dense film. I generally do not like anything with Tom Arnold either, and frankly, I've only seen pieces of it so far and haven't even finished it, but I've seen MANY films throughout my life, I have some bachelor's-level education in the arts, and I have a very critical eye (you can ask my friends, especially the ones who aren't talking to me). I can tell right away if a movie is going to be good or bad, because the quality of a movie is more-or-less homogenous all the way through. The point is, if you haven't seen this movie, give it a chance. If there is something about it that grosses you out or doesn't impress, I can't imagine it being more disgusting or disappointing than Family Guy's various vomiting characters or drawn out Conway Twitty, chicken fights and Return of the Jedi parody scenes, respectively. This film has modern camera work, razor-sharp editing, and an all-star cast. For the life of me I cannot figure out why I've never heard of it. Yes, there is better comedy out there, but come on. Is it really appropriate to drag one joke out for five minutes, or repeat a word over and over and expect to get the same reaction every time? Does SNL really have the winning formula? If so I shed a tear for our nation. What happened to good writing? Or at least writing that tried? That wasn't repetitive? That didn't make you want to stick a fork in your brain? Group Sex may not be perfect, but it clearly makes the effort. And for that, I applaud it.
Eric Marley
This actually turned out to be halfway decent, even managed to suck in a passer-by while it was on. Did not expect to see Alias/Heroes guy play a role like that, but he played it well (as well as a role like that can be portrayed anyway). The story itself was at least a bit unique in the details. Tom Arnold's character was funny and the guy he was always hanging out with reminded me of a certain Sons of Anarchy character. And yeah, Vanessa / Odette Annable, hot as hell!
Chris S
Let's face it. The only redeeming thing about this film is what I can do with the title. "Hey, I'm writing a review about Group Sex!" "I saw Group Sex at the video store!" "I watched the Fonz and Tom Arnold involved in Group Sex!" Other than making cheesy sentences using the title like a 13 year old boy there is nothing really worth noting in Group Sex. The first thing that should be a dead give away that a film is going to be crap is when you're watching the credits and see the name Tom Arnold on the screen. That belief holds true throughout this horrible film about a guy that sees a beautiful singer at a bar, stalks her to a group meeting for sex addicts. This is your typical recipe with out hero being a nice guy, his roommate who is a sex maniac, and all of the typical horned up people you would expect at a sex addicts support group, such as the fun with foods woman and while we're on the food topic, there's the chronic masterbater who uses everything from relish to white out to work his mojo. The problem is that it's not funny. There isn't one laugh in this film other than myself laughing because I saw this piece of shit for free. I feel bad for you suckers out there that actually paid to see this movie. This film is a waste of time and wear and tear on your viewing equipment. Let me just say that if this film was released on VHS I would leave it laying out in the car on a hot summer day to put it out of its misery. You can do better than this flick. Make a flip book out of a post it note pad or something. Stick people are more entertaining than this.
Chris Garman
Super Reviewer
Discussion Forum
Discuss Group Sex on our Movie forum!
News & Features