Growth
(2009)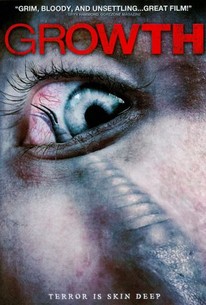 AUDIENCE SCORE
Critic Consensus: No consensus yet.
Movie Info
Twenty years after a mysterious outbreak claimed the lives of everyone at the Advanced Parasitic Development at the Cuttyhunk Island Research Facility as well as most of the civilian population on the island, a woman who managed to narrowly escape infection discovers that the bug is much more resilient than scientists previously gave it credit for when she returns home to sell her parent's abandoned property. Now the parasites have evolved, and they can slip into any human orifice impossibly fast. If they manage to find a human host to carry them out of the danger zone, there's no telling how long it would take before the infection starts to spread all across the planet.
Rating:
NR
Genre:
, , , ,
Directed By:
Written By:
In Theaters:
On DVD:
Runtime:
Studio:
Critic Reviews for Growth
There are no critic reviews yet for Growth. Keep checking Rotten Tomatoes for updates!
Audience Reviews for Growth
½
I've had viruses that kill you plenty of times before, and a couple that make you become a super-human, but from memory I think this is the first encounter I've had with both at the same time. Watching this movie from beginning to end just made me think about movies like Slither, Splinter and Shiver (recurring theme much?) who have all done this thing before, only... Well, you know, good? There were way to many bad guys antagonists, and the main characters were all just boring and annoying people to be around. At least when Justin Roberts became infected (above) he became a little bit interesting (if incredibly cheesy). I really can't see any reason why this movie needed to be released? It's entirely possible that whoever came up with the plot failed and coming up with the money, and he did the best he could, but this is not the sort of a film I'd want to be putting down on a resume. I wasn't strictly speaking bored, but I wouldn't go so far as to say that I was entertained. The CGI was appalling the acting was only mildly better. The whole thing was mostly unbelievable. Though it wasn't that bad, it's sooo difficult to think of any actual positive points. On a pass/fail basis, I'd give this movie a big fail. It does a couple of things okay, but it's very difficult to follow, and doesn't really have anything that stands out in apositive light about it. 17% -Gimly
Growth (Gabriel Cowan, 2010) Growth is one of those movies about which a whole lot of people are unloading a whole lot of calumny over on the IMDB boards. I've got an hypothesis about that (don't I always?). A lot of the things folks are saying-and I add, even before we get into it, that most of them are accurate-are the kinds of things that people say about movies that inspire ennui, not ire; it's boring, it's got plotholes you can drive a truck through, the acting is awful (that one I will dispute, at least in part, later on), the script is worse, etc. Nothing you haven't seen in hundreds of other DTV low-budget special effects extravaganzas. I think the reason that one has drawn so much hatred is that somewhere under the surface of this movie is a really, really good-perhaps great-movie. I think people are reacting to that, rather than the film we got. And that is a valid approach to criticizing the movie. But on the other hand, that also tends to give short shrift where it is, perhaps, undeserved; if you can separate what could have been from what is and overlook a few shortcomings that really are as bad as people make them out to be, this is actually not an awful way to kill ninety minutes if you're a fan of creepy-crawly horror. Plot: researchers in a secret genetic lab on a remote island make a breakthrough in 1989, but it ends up getting loose and causing a massacre. Fast-forward twenty years. Jamie Ackerman (Magic Mike's Mircea Monroe), who escaped the terror of that night, and a handful of her friends return to the sparsely-populated island to sell her family's property. But something feels off. Larkin (Office Space's Richard Riehle), the mayor, warns her away almost as soon as she sets foot on the island, and the rest of the islanders look at her as if they haven't eaten in weeks and she's a steak. She and her crew, poking around the remains of her father's old laboratory, uncover evidence that whatever he discovered might not have been completely eradicated. Jamie realizes that her real estate adventure may be a tougher sell than she realized. Okay, yes, this movie is dumb. But if you're picking apart the science in a horror movie, I submit that perhaps you're thinking about it a little too hard. This isn't a movie about science, it's a movie about nasty special effects. Think of it as Slugs for the serial-killer generation. That doesn't totally redeem it, of course-though one wonders how much it would if Cowan had had the kind of budget that made Alien vs. Predator into one of the best, and yet stupidest, turn-your-brain-off-and-have-fun movies of the past decade-but it's enough to get some enjoyment out of what you're seeing. If you want a creepy-crawly movie, and everything else in your collection you've seen too many times, check this out. Go into it with no expectations and you'll have some fun with it. **
Robert Beveridge
½
It runs a little slow from time to time but when they rip off a lim and beat them with the blood sub of it it will awake you back up.
Pete Skeris
Growth Quotes
There are no approved quotes yet for this movie.
Discussion Forum
Discuss Growth on our Movie forum!