Grupo 7 (Unit 7)
(2012)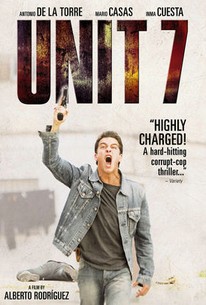 AUDIENCE SCORE
Critic Consensus: No consensus yet.
Movie Info
UNIT 7 has a tough assignment: to clean the most dangerous drug trafficking networks out of the city and bring an end to the corrosive power that has taken hold of the streets. A detail of four, the unit is led by Ángel (Mario Casas), a young officer aspiring to detective, and Rafael (Antonio de la Torre), a violent, arrogant yet efficient cop.
Critic Reviews for Grupo 7 (Unit 7)
Audience Reviews for Grupo 7 (Unit 7)
Shiny boy Mario Casas did not quite convince me in this otherwise solid police thriller on the rise and fall of a supposedly hardcore unit determined to clean the city of Seville and make it safe before the expo cames to town.
Nicolas Korovessis
Super Reviewer
½
We all have seen the concept of a group of people are dedicated to preserving the law, but becoming corrupt themselves a dozen or so times. The Spanish crime drama Grupo 7 (Unit 7) benefits from having tight writing and great performances that makes it worth sitting through regardless how many times the premise been used. Grupo 7 (Unit 7) follows four team members, �ngel (Mario Casas), Rafael (Antonio de la Torre), Mateo (Joaquín Núñez), and Miguel (Josà (C) Manuel Poga), as an elite group of narcotics officers with a mandate to wipe out drug trafficking by any legal or illegal means. We have the usual rookie vs. veteran, family man vs. womanizer dynamic that are cliche character arc. What makes it material work is how in depth it examine the characters and delve into their past. It makes us question if it is worth stopping crime if it means doing it by unjust used. Another plus is how it manage to capture the realism these crimes have on the real world. Although, the ending will leave something to be desire as it does come abruptly without much examination of happens afterward to our elite team members. It does lose momentum in the second half, but good productions values helps it overcome it flaws. The performances from our cast keep us engage. Each of the main actors gave a heartfelt performance and demonstrated great chemistry that will have your eyes glue to the screen. The film direction is spot on always capturing the emotion of a scene to strong effect. It is superbly filmed using lighting to showcase the tensity of a conversation or the dark region of our character mind. Grupo 7 (Unit 7) is a well written Spanish crime drama with heartfelt performances and good production values. It's tense and captures the realism of it story to make for an engaging viewing of law enforcers stopping drug trafficking.
Caesar Mendez
Super Reviewer
Grupo 7 (Unit 7) Quotes
There are no approved quotes yet for this movie.