GTO: Great Teacher Onizuka
(1999)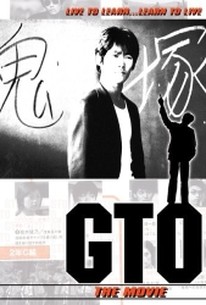 AUDIENCE SCORE
Critic Consensus: No consensus yet.
GTO: Great Teacher Onizuka Photos
Movie Info
Tohru Fujisawa's popular manga about a wildly irreverent high school teacher comes to the screen in this live-action comedy drama. Eikichi Onizuka (Takashi Sorimachi), who barely earned his teaching degree at a second-rate college, rolls into Horobonai, a small rural town in Northern Japan on his motorcycle to take a job as a substitute instructor. Ever since the closing of the local theme park, Horobonai has fallen into an economic tailspin, and many of the town's teenagers have sunk into a deep depression. Onizuka, however, isn't the sort of person who respects the town's newly somber personality; willing to mouth off to both his students and his superiors, Onizuka isn't much of a teacher, but he knows how to get people interested, and soon his brash style (and willingness to kick a few butts) brings new life to Horobonai. ~ Mark Deming, Rovi
Critic Reviews for GTO: Great Teacher Onizuka
There are no critic reviews yet for GTO: Great Teacher Onizuka. Keep checking Rotten Tomatoes for updates!
Audience Reviews for GTO: Great Teacher Onizuka
½
GTO or "Great Teacher Onizuka" is one of those stories that benefits from the over the top style of Japanese film. This film does have this, but just not enough.
This film stems from an anime and a live action series in Japan. This is more a less a stand alone episode if you will, but being a fan of the series will help you appreciate this more than a first time viewer. Watching the series will also help you understand the character known as Eikichi Onizuka.
The story is what you expect from the GTO universe. In a place called Horobonai, Onizuka arrives with his obnoxious attitude to stir up this rural town. As usual, Onizuka is able to better the lives of those around him with this brash behavior of his.
As for the Onizuka character, he holds true to his over the top wild behavior, but the strong sexually perverse element is pretty much non-existent. I assume this is to market the film to a younger audience.
Takashi Sorimachi takes on the role of Eikichi Onizuka and he is a perfect fit. On a side note, he is also Onizuka in the live action series. While I mentioned that the sexual element of Onizuka's character is at a minimum, there are two beautiful women in this film. Norika Fujiwara and Rena Tanaka. The first does a good job while the latter is a little bland, although that is partially due to her character. Hideyuki Kasahara is the other notable character, and while he isn't bad, he is still forgettable.
In the end, this isn't as eccentric as the series, but this is still a good watch for fans of the show.
GTO: Great Teacher Onizuka Quotes
There are no approved quotes yet for this movie.