Guardians of the Galaxy Vol. 2
(2017)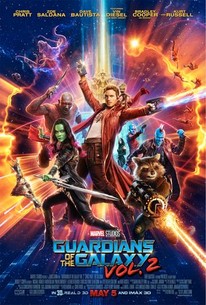 TOMATOMETER
AUDIENCE SCORE
Critic Consensus: Guardians of the Galaxy Vol. 2's action-packed plot, dazzling visuals, and irreverent humor add up to a sequel that's almost as fun -- if not quite as thrillingly fresh -- as its predecessor.
Guardians of the Galaxy Vol. 2 Videos
Guardians of the Galaxy Vol. 2 Photos
Movie Info
Set to the all-new sonic backdrop of Awesome Mixtape #2, Marvel Studios' "Guardians of the Galaxy Vol. 2" continues the team's adventures as they traverse the outer reaches of the cosmos. The Guardians must fight to keep their newfound family together as they unravel the mystery of Peter Quill's true parentage. Old foes become new allies and fan-favorite characters from the classic comics will come to our heroes' aid as the Marvel Cinematic Universe continues to expand.
News & Interviews for Guardians of the Galaxy Vol. 2
Critic Reviews for Guardians of the Galaxy Vol. 2
Audience Reviews for Guardians of the Galaxy Vol. 2
First hour and half was very forgettable, and seemed like a typical action sequel (all of the same notes as the original, done in a less interesting way), but the final 30 minutes were very heartfelt. One of the only Marvel movies that has actually attempted to emit an emotional response from its audience. Color me impressed.
Spencer Macklin
Super Reviewer
Confusing mess of a movie.
Nicki Marie
Super Reviewer
Writer/ Director James Gunn's "Guardians of the Galaxy" from 2014 (wow, that was fast) is not only the best entry in Marvel's box office-busting Cinematic Universe in my opinion; it's one of my favorite films of this decade full stop. Gunn's hand-made aesthetic and an ever-present love for his characters and source material (along with stunning technical merits, gorgeous effects and color palette, game cast, and perfect comedic timing) cemented "Guardians" as the pleasant surprise of the year and a bonafide critical smash. Expectations were justifiably sky high for a follow up, then in steps "Vol.2." Luckily Gunn and co. stick the landing with only some leg wobble. Yeah, much of the surprise is gone. We know these characters and we know the quirks. But the characters are still fun to be around and the quirks a joy to roll with in an MCU of near endless iterations and routines. Most satisfying, the ensemble of outcasts (our heroes) have evolved from the last outing. Rocket isn't just comedic relief. Baby Groot isn't overused. Drax is as giddy as a hyena. If Starlord isn't as charming or charismatic as the last time it's because his relationship with his father, Ego (Kurt Russell), is the dramatic center of the show. Gamora is underutilized but her subplot with her sister Nebula hit home. Most surprising is Yondu (Michael Rooker); who is given so much depth and emotional gravitas that he emerges as the most memorable aspect of the film... and maybe even the single best thing about this installment. Unlike it's predecessor, "Vol.2" is a comedy first, and a space opera second. This is a bit of a problem, especially in the first act. Vol.1 used humor to spice up a believable sci-fi world and awesome characters. Here, it feels forced: notably in a first half hour that's part franchise reintroduction and part stand-up routine. The comedy does become less scattershot however, as does it's relatively lose (and sometimes distractedly unfocused) plot, the further into the running time we get. Equally unfocused is the development of Ego, Peter Quill's father, who is seminal to the plot. I always love Kurt Russell, and he's as solid as ever here. I just wish so much of his role didn't involve lengthy exposition. But like "Vol.1," Guardians 2 is a brilliant piece of visual film making. The colors pop, the action's exciting, and Gunn infuses all of this with his now signature handmade, fanboy energy. There are also moments of pure joy and heart that rival (if not surpass) the best bits of the first film. The final half hour or so is pure bliss. We are still firmly in the upper echelon of summer blockbusters with this one. Many were expecting perfection with this one... expectations that could possibly be never met. But "Guardians of the Galaxy Vol.2" delivers a brash, funny, action-packed delight that's hard to knock. It's heart is in the right place. It's characters? More than welcome for the inevitable "Round 3."
Guardians of the Galaxy Vol. 2 Quotes
There are no approved quotes yet for this movie.
Discussion Forum
Discuss Guardians of the Galaxy Vol. 2 on our Movie forum!