Guerrilla: The Taking of Patty Hearst
(2004)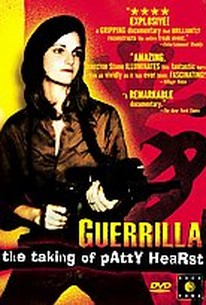 TOMATOMETER
AUDIENCE SCORE
Critic Consensus: Guerilla is a riveting documentary that chronicles in enlightening fashion the 1974 kidnapping of heiress Patty Hearst.
Movie Info
In 1974, young Patty Hearst became a media icon after she was kidnapped from her apartment by a group calling itself the Symbionese Liberation Army (SLA). At the time, Patty was an impressionable college student who happened to be the granddaughter of the infamous William Randolph Hearst. The SLA's demands on Hearst's family were unique; hoping to spark a class war in America, they instructed the Hearsts to make a multimillion dollar donation of food to the poor. But the story firmly imprinted itself in the history books when, two months after the initial abduction, Patty appeared to have joined forces with the SLA, and was caught on camera wielding a gun as the team robbed a bank. This documentary on Hearst's story offers some fascinating insights on what happened to her during her time with the SLA. Some startling footage has been unearthed, and some former members of the SLA come forward to give their accounts of the story. Hearst has subsequently enjoyed a post-kidnapping career as an actress, and has appeared in a number of films by the infamous "Pope of Trash" John Waters, whose 2000 film CECIL B. DEMENTED owes a sizable debt to Hearst's kidnapping tale.
Rating:
NR
Genre:
,
Directed By:
In Theaters:
On DVD:
Runtime:
Studio:
Cast
Critic Reviews for Guerrilla: The Taking of Patty Hearst
Audience Reviews for Guerrilla: The Taking of Patty Hearst
½
Very well documented and very insightful documentary, skillfully pieced together. Excellent use of footage from the time, good narration. I was always interested in the content.
James Higgins
½
I looked all this stuff up on Wikipedia the other day; I don't remember why. My whole life, I'd known at least vaguely of who Patty Hearst was. I'd seen that picture, that famous picture, many, many times. I'd read the old [i]Doonesbury[/i] strips on the subject. I'd laughed hugely at her portrayal of Wanda's Mom in [i]Cry-Baby[/i]. And, eventually, I pieced together at least some of the story. As much of the story as most people know, I guess, and more than most people my age, almost certainly. But until a couple of weeks ago, I honestly had no idea why the group that kidnapped her was called the Symbionese Liberation Army. In my head, I vaguely paralelled it with the Palestinian Liberation Organization, a looming presence of my politically-aware childhood. I was never sure, however, what group the Symbionese were. (For the curious, it's a word invented by Donald DeFreeze, the group's original leader, based on the word "symbiosis.") This documentary really starts with the first major action of the SLA, the assassination of Oakland school superintendent Dr. Marcus Foster and wounding of his deputy, Robert Blackburn. Two SLA members went to prison for this shooting. Following that, on 4 February, 1974, the SLA kidnapped heiress Patricia Campbell Hearst, granddaughter of William Randolph Hearst. The SLA told the family that they would free her if the imprisoned members were released, which of course the family could not do. Then, they demanded that the family distribute enormous amounts of food to the poor, a program that didn't really work. Eventually, the tapes that they released from Patty had her declaring her rejection of her family and society and her taking the new name Tania. It was after this that she took part in the Hibernia Bank robbery, the group's most famous activity. Later, five SLA members (including DeFreeze) were killed as part of a firefight in Los Angeles. Eventually, Hearst was captured, tried, and convicted for her role in the Hibernia Bank robbery. She later had her sentence commuted by Jimmy Carter and was pardoned by Bill Clinton. The film takes essentially no stance on Hearst's claims that she was brainwashed by the SLA. While her story is used as a frame to hold the story together and her name features prominently in one of the titles under which this was released, there is little detail about Hearst herself mentioned. The details of the SLA's activities rate more mention. Hearst is not among those former SLA members interviewed, though I doubt she would have agreed to be so if asked. There is, at the end, a brief shot of a young, clean-cut Patty Hearst beaming at the camera after her commutation; this, I think, serves to remind us that no other member of the organization received such favourable treatment--though Russell Little, one of two men convicted in the Foster murder, was eventually acquitted in a retrial in 1981. He [i]is[/i] one of the ones interviewed. Groups like this frustrate me. They put so much effort into their bank robberies and their gun stockpiling. In fact, it was impulsive shoplifting on the part of member William Harris that indirectly caused the deaths of DeFreeze, Nancy Ling Perry, Angela Atwood, Willie Wolfe (after whom Stephen King named his infamous rabid dog--his [i]nom de guerre[/i] was Cujo), and Patricia Soltysik. The sequence of events is hard to follow and harder to believe, but it's true. Yes, the SLA got some poor people in California fed, but since the food distribution was poorly organized, the distribution in one area led to violence and all of it was shut down. Other than that, I am curious as to what anyone thinks they accomplished. The only member most people can name these days is Patty Hearst, and she has long since rejected their values if she ever really espoused them in the first place. Surely that effort could have been put to better use elsewhere. If Hearst has never shown real remorse about her crimes, it's hard to consider the others to have done so, either. In the disc's special features, there is footage from the Sacramento courthouse where four of the SLA members pleaded guilty to the murder of bank teller Myrna Opsahl, killed in the Crocker Bank robbery, where Hearst allegedly drove the getaway car. William Harris expressed the opinion that putting him in prison wouldn't solve anything--possibly true--and that it was a great hardship on his family, even comparing it briefly to the hardship Opsahl's family suffered upon her death. It's really horrible. Even if they do feel remorse, none of them went out of their way to ensure that they would make amends to the family for it.
Edith Nelson
I left the library early last night. I had gotten done everything that needed to get done and Dan and Chris had already left. And this new guy was driving me crazy. Somebody found a way to screw up the computer and they needed me to figure it out. I became known as the guy who can fix the computer because I fixed it the last time. What was the problem the last time? The phone cord in the back wasn't plugged in all the way. Anyway, after spending about ten minutes trying to find the manual someone had put together to no avail, I decided to just sit down and see what I could do. I don't know what New Guy's deal was, but he would not budge from his seat. I don't know why I'm telling this story, even I'm already bored by it. Oh! - y'know what else happened? A good friend of mine from the library (Michael - I'm almost positive I've never mentioned him here. Yes, he speaks German) lost his father last week. Since I know him, I was asked to sign a card. Someone had purchased a sympathy card and wanted everyone to sign it individually. Now it's one thing when you get a birthday card from your co-workers with "Best wishes!" written fifteen different times. But replace "Best wishes" with "Deepest sympathy" and it's just...sick. I didn't sign. I couldn't sign. I'll get him my own damn card. Or call him. Maybe I'll call him. So I left early and went home to watch [i]Guerilla: The Taking of Patty One, Two, Three[/i]. I've been on a big ole doc kick lately. Viva La Netflix. Patty Hearst, heiress to the Hearst publishing fortune, was kidnapped by some idiot radicals that called themselves the [url="http://en.wikipedia.org/wiki/Symbionese_Liberation_Army"]Simbianese Liberation Army[/url] (Viva La Wikipedia). She spent close to two years with them and developed one serious case of Stockholm Syndrome* (I'm not linking that because I didn't have to look it up. Nyahh.). The filmmaker Robert Stone did a good job of putting her story in the context of post-Vietnam radicalism. But rampant documentary-watching is not why I must be stopped. In the closing "Where are they now." titles, it is mentioned that Ms. Hearst wrote a best-selling book on her ordeal and we all know what's coming next. Naturally, I went to amazon to add her to my [url="http://www.amazon.com/gp/registry/wishlist/3FGCHZ6FCJOLB/ref=cm_wl_rlist_go/002-7036974-6453651?ie=UTF8"]Biographies wish list[/url] (seriously - this is getting out of hand). Now how was I supposed to know that there would be a "Very Good" hardcover copy for 75 cents? [size=1]*One of my favorite moments on [i]King of the Hill[/i] is when Dale, Hank and Boomhauer are being held hostage by a guy who wants to usurp Dale's position as president of the Arlen Gun Club. When faced with certain death, Dale begs for his life with, "I'm developing Stockholm Syndrome....Handsome."[/size]
Rodolfo Raines
Discussion Forum
Discuss Guerrilla: The Taking of Patty Hearst on our Movie forum!
News & Features