Guide (Survival)
(1965)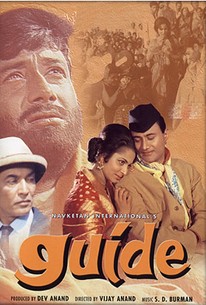 AUDIENCE SCORE
Critic Consensus: No consensus yet.
Movie Info
Raju is a railway guide who befriends Rosie, a neglected wife of an archeologist Marco. Rosie has a passion for dancing which Marco doesn't approve of. Rosie, encouraged by Raju, decides to follow her dreams and walks out on her husband. Raju becomes her stage manager and soon with the help of Raju's marketing tactics, Rosie becomes a successful dancer. But a man should not live off a woman. On the other hand, what if she is successful only because of that man? The relationship between Raju and Rosie is strained. Marco reappears and Raju inadvertently gets involved in a case of forgery and gets a six-month sentence. After completing the sentence, Raju is passing through a village when he is mistaken for a sadhu (a spiritual guru). He doesn't mind this mistake and makes the village temple his home. There is a famine in the village and Swami Raju, like the sadhu in one of his stories that he used to narrate to the villagers, is expected to keep a fast to get the rains. And he does go on a fast. 'Can there be any connection between one man's hunger and the rains?' 'Is there someone up there and does he listen to you'? He is undergoing a spiritual transformation and the place has become a shrine. 'Will it rain?' Well, the villagers have faith in him and he has faith in their faith. And it does rain. But Raju has realized the Brahman (universal soul) by then and has merged into it. Nothing exists but 'me'. Indian philosophy at its most entertaining form.
Critic Reviews for Guide (Survival)
All Critics (1) | Top Critics (1) | Fresh (0) | Rotten (1)
It is also poor reporting - it simply does not tell us anything that we did not know already, and what it does tell - in fuzzy interviews about, for example, the Arab refugee problem - it tells unclearly. Everything about it is off.
Audience Reviews
There are no featured reviews for Guide (Survival) at this time.
Guide (Survival) Quotes
There are no approved quotes yet for this movie.