Guilty (Talvar)
(2015)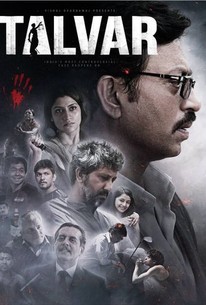 Movie Info
In this tense whodunit based on a sensational, real-life murder trial in India, the police investigation into the killing of a teenage girl (Ayesha Parveen) leads to two possible sets of suspects: the parents, and the father's assistant.
Critic Reviews for Guilty (Talvar)
Audience Reviews for Guilty (Talvar)
Had high expectations, but as it happens more often than not, left me disappointed. Maybe due to enough knowledge about the case (not that of the police staff involved or their family) from which the movie is inspired. While it's a fictionalized version of real crime, it doesn't manipulate the significant facts of the case as far as the evidence and proof are concerned. Well, more than less. Seems like Tabu's character was created to show the emotional side of Irrfan's character and maybe some light moments. But it doesn't help the cause and it'd have been better off without it. While the performances are commendable, the portrayal of the police personnel is quite typical (not to be mistaken for unreal). One time watch if you don't know about the Noida double murder case details already. A seemingly open and shut case (more so if you aren't interested to go into the details of the case & pass judgments based on unscrupulous assumptions) that's a hard one to crack. Much, if not full credit goes to the police force that mishandled the case by not following the essential procedures in its initial stage. (Letting the crime scene to be compromised wasn't their only fault.) Beyond reasonable doubt for that matter.
familiar stranger
Super Reviewer
Guilty (Talvar) Quotes
There are no approved quotes yet for this movie.