Gun chung (Eye in the Sky) (Surveillance)
(2007)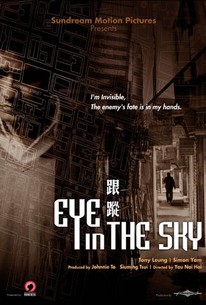 AUDIENCE SCORE
Critic Consensus: No consensus yet.
Movie Info
Longtime screenwriter Yau Nai-hoi makes his feature directorial debut with this tale of a Hong Kong surveillance unit ensnared by underworld violence. In the aftermath of a daring daytime jewelry store heist, criminal mastermind Shan (Tony Leung) and his crew celebrate their success with a rooftop barbecue. The good times are quickly cut short, however, when Shan's men summon the wrath of their boss by attempting to muscle him into giving up a bigger cut. But Shan's men aren't the only ones who want a heartier piece of the pie, because it seems as if the boss himself is scheming to take the men at the top for all they're worth. In order to do so, Shan executes a second high-profile robbery that finds him doggedly pursued though the streets by determined cops. In order to catch the elusive criminals the police will have to work harder than ever, a fact that's not lost on grizzled surveillance unit leader Captain Wong (Simon Yam). Known casually by the code name "Dog Head" to his underlings, Captain Wong is currently mentoring pretty rookie "Piggy" (Kate Tsui), and has made it unmistakably clear that the sole function of the SU is not to engage the criminal, but observe him. When "Piggy" breaks the primary rule of the SU during a particularly sensitive mission on the streets of Kowloon, Shan retaliates by striking back at the unit with everything he's got. ~ Jason Buchanan, Rovi
Critic Reviews for Gun chung (Eye in the Sky) (Surveillance)
There are no critic reviews yet for Gun chung (Eye in the Sky) (Surveillance). Keep checking Rotten Tomatoes for updates!
Audience Reviews for Gun chung (Eye in the Sky) (Surveillance)
Nai-Hoi Yau takes a back seat and watches in Eye in the Sky.
Coming in at just under 90 minutes, this is actually an appropriate run time for a film lacking dialogue as this one does. The story takes a unique point of view at what could be a typical cops and robbers showdown. Instead, deciding to focus on the surveillance and the tracking of criminals, Eye in the Sky keeps things interesting from start to finish.
The action is minimal, limited to a shootout in the middle, but where this picture lacks in action, it makes up for in the plot details. The restaurant scene near the end is worthy of note.
Simon Yam and Tony Leung are fantastic with Kate Tsui and Maggie Siu putting together some solid characters of their own.
Eye in the Sky gets it done in all facets, resulting in a Hong Kong crime thriller worth checking out.
Typical dying-to-be-cool-&-exciting crime flick that is boring & annoying actually, No subtlety, no insight, no characterization, No nothing
Regular Jhonny To writer directorial debut is exactly what you would expect from the guy that wrote Election, The Mission among other To titles. A tight cop/crime thriller that never lacks rythim and that keeps you interested from start to finish. The man certainly has learned some tricks from To himself, the camera moves in a very similar way, so it will be innevitable to compare a bit. The guy is still not another To mind you, but shows a lot of promise, and thankfully will help to continue to polish the HK crime genre. Also, you really can't go wrong with the cast, and even the cute eye candy Kate Tsui does a quite decent job, way better than other juvenile inflated HK that work these days. So, any HK aficionado is more than welcome to watch this one.
Tsubaki Sanjuro
Super Reviewer
Gun chung (Eye in the Sky) (Surveillance) Quotes
There are no approved quotes yet for this movie.