Guns of Diablo
(1964)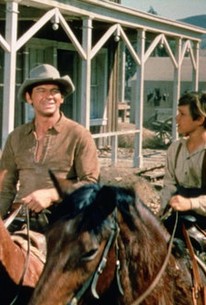 AUDIENCE SCORE
Critic Consensus: No consensus yet.
Movie Info
Guns of Diablo was cobbled together from two episodes of the TV series The Travels of Jamie McPheeters. 14-year-old Kurt Russell plays Jamie, an orphaned boy heading westward with a wagon train. Charles Bronson tops the cast as wagon scout Linc Murdock, who runs into difficulties when he meets old flame Maria (Susan Oliver), who is now married to corrupt lawman Rance Macklin (Jan Merlin). The jealous Macklin has Murdock arrested, but Maria frees him, permitting Murdock and Jamie to embark on a new adventure involving a "lost" gold mine. Curiously, Dan O'Herlihy, Kurt Russell's costar on Travels of Jamie McPheeters, does not appear in this ersatz feature.
Audience Reviews for Guns of Diablo
If I'm going to die I'm going to die with my boots on Linc Murdock and Jamie McPheeters ride into the small western town of Diablo initially posing as father and son. When they arrive, Murdock encounters an old flame that appears ready to marry the local source of income against her will. Murdock will do his best to rekindle a relationship with his old flame and rescue her; meanwhile, McPheeters finds an old senile man on his death bed that tells strange tales of finding gold in California. "There's no fool like the man that puts his own foot in his mouth." Boris Sagal, director of The Diary of Ann Frank, World War III, Angela, The Dream Makers, Deliver Us from Evil, The Omega Man, and The Mosquito Squadron, delivers Guns of Diablo. The storyline for this picture is interesting and well delivered. Initially, it seems standard for the western genre but the characters are delivered and developed very well. The cast delivers perfect performances for this genre and includes Charles Bronson, Kurt Russell, Susan Oliver, and Jan Merlin. "All these towns look the same to me." "Yeah, they don't change much." We came across this film while searching for Charles Bronson pictures and were shocked we never heard of a film starring Kurt Russell and Charles Bronson. This was every bit as good as we hoped and a worthwhile addition to the western genre. This isn't the best Bronson western (Once Upon A Time in the West), but it is definitely a solid picture that is worth your time. "Cutting down is better than cutting out." Grade: B+
Kevin Robbins
½
Charles Bronson not playing a tough guy? Weird but whats really weird is that I read on imdb that this wasnt an actual movie.It was just a couple of episodes of the TV series "The Travels Of Jaimie McPheeters" sewn together.Still very good though
Brody Manson
Super Reviewer
Guns of Diablo Quotes
There are no approved quotes yet for this movie.
Discussion Forum
Discuss Guns of Diablo on our Movie forum!