Gut
(2012)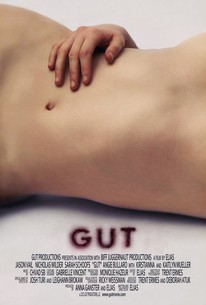 Movie Info
A mysterious video bonds two men in fear, threatening to unravel their lives as their paranoia grows more intense with each passing day. Tom was starting to grow numb when his best friend Dan claimed to have a video that would really shake him up. Later, after watching the video with Dan, Tom battles an overwhelming onslaught of dark thoughts. Later, as Tom struggles in vain to forget the disturbing images branded into his brain, his general malaise grows into an all-consuming terror. When more videos begin to arrive from an unnamed source, reality itself begins to crumble as every waking hour becomes a living nightmare for the two tormented friends. ~ Jason Buchanan, Rovi
Audience Reviews for Gut
'Gut' starts off interestingly as a bored husband becomes obsessed with a series of DVDs featuring killings which may or may not be real. Unfortunately the film is incredibly amateurish, featuring some of the worst acting I've seen all year. The cheap digital aesthetic makes it hard to watch, particularly when combined with such poor lighting and framing. Director Elias seems intent on copying the glacial style of Cronenberg and Haneke but needs to learn a lot about the basics of film-making first.
The Movie Waffler
Super Reviewer
Gut Quotes
There are no approved quotes yet for this movie.
Discussion Forum
Discuss Gut on our Movie forum!