Guy X
(2005)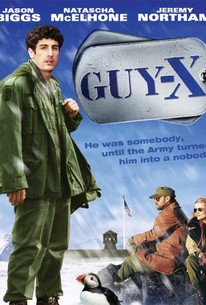 Movie Info
This loose update of John Griesemer's biting and satirical 2001 anti-war novel No One Thinks of Greenland features American Pie starrer Jason Biggs as Corporal Rudy Spruance, a young man enlisted in the U.S. military in the late 1970s, at the height of the Cold War between the States and the Soviet Union. Though he's supposed to be transferred to Hawaii, Rudy is instead thrown out of a plane on a quasi-vacant airstrip in an unspecified location. He hits his head, loses consciousness, and comes to in a local infirmary - only to have doctors inform him that: A) He isn't in Hawaii, he's on a military base in icy Greenland, and B) His name isn't Rudy Spruance, it is Martin Pederson. The bombastic, ignorant base commander, Corporal Lane Woolwrap (Jeremy Northam) dismisses Rudy's assertions of mistaken identity and hands him his mission: to start a propagandistic newspaper used to generate morale among the troops. Instead of doing this, Rudy happens upon an isolated, top-secret building that houses some long-kept secrets related to government malfeasance - well aware of the implications of his discovery. Natascha McElhone co-stars as Woolwrap's girlfriend.
Rating:
R
Genre:
Directed By:
Written By:
In Theaters:
On DVD:
Runtime:
Studio:
Audience Reviews for Guy X
½
An odd mish-mash that fails at everything. Not a Biggs fan. Tries to be profound, and succeeds at going nowhere.
Mike Bierman
Guy X is not the movie I am reviewing but they don't have the movie I watched on Flixster yet. I viewed Lower Learning, a dark comedy with Jason Biggs, Rob Cordry, Will Sasso, Eva Longoria and others. It's about an elementary schoool vice principal trying to save the school from closing and the evils of its principal. It was OK. The parts I enjoyed most were only because I liked the actor. Jason Biggs is not included in that group. 2008 Movies: 63
Ross Loehner
½
This film probably would have been a lot better if it could make up it's mind as to exactly what it is: one minute it's trying to be Buffalo Soldiers, the next some Military thriller involving something that's never actually explained. And as the film doesn't take either of these seriously it fails on both accounts.
Marcus Woolcott
Super Reviewer
Guy X Quotes
There are no approved quotes yet for this movie.