Guy in Row Five
(2005)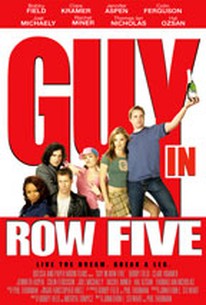 AUDIENCE SCORE
Critic Consensus: No consensus yet.
Movie Info
"Guy in Row Five" is a comedy about an aspiring hopeful named Thess (Bobby Field) who moves to Hollywood to become a star. Ever optimistic, he lands a gig as a "background performer" on the hit TV series "Rodeo Nights". After pestering his way into an audition for the show's new series regular, he is so convinced that he's booked the role that he decides to document his last day of being a struggling actor. With his girlfriend Rose (Clare Kramer) as boom operator, and a soft-spoken friend Tony behind the camera, Thess takes us on a journey of the relentless pursuit of his dream. From Starbucks to the soundstage, Hollywood Boulevard to the Hollywood sign, "Guy in Row Five" is a comedy about the relentless determination of a Hollywood underdog who will inspire the dreamer in all of us. -- Official Site
Audience Reviews for Guy in Row Five
½
GUY IN ROW FIVE is a delightful picture! Tapping into the struggling, ever-hopeful, frustrated - even sometimes irrational - midwestern transplant that is "Thess" (sensitively played by Bobby Field), this film takes us on a journey through the trenches of Hollywood and the struggling actor. GIR5 resits the urge to get too insidery - the jokes are universal and poke fun at silliness of the Tinseltown "biz" - but the main focus remains on the plight of the main characters. Thess is the no-holds-barred-race-ahead-like-a-thoroughbred-with-massive-blinders dreamer (whose aspirations do pay off, though in an unexpected manner), and his girlfriend Rose (Clare Kramer - who shines brightly fade in to fade out) shows the audience that being true to yourself is the ultimate endeavor. The writing and direction are solid in this (often times VERY) funny indie pic, the cast - though deep - is wonderful top to bottom, and the overall package is well worth the price of admission. Speaking of, what's next for this show? I read that it won an award at Cinequest earlier this month - hopefully it will tour its way back to Hollywood for the Los Angeles Festival this summer. If you have the chance, defintiely take a look. - TT
Tommy Travers
Guy in Row Five Quotes
There are no approved quotes yet for this movie.