Ha-shoter (Policeman)
(2014)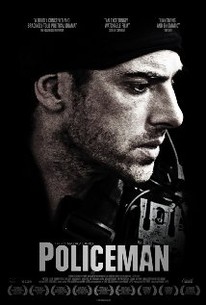 Ha-shoter (Policeman) Photos
Movie Info
Yaron, an elite special operations squad leader, is the spiritual leader and alpha male among his peers, a small, highly trained team that is part of the Israeli Defense Ministry's Anti-Terrorism unit. These men work, play, laugh, and cry together. They are true patriots. Yaron's wife is expecting their first child, and the failing health of a team member weighs on his soul, and the price that must be paid as a result of this. As the story shifts, the antagonists are introduced: a small group of politically extreme individuals with their own vision of how Israeli society should be. They use terrorism to make their misguided vision a reality. Yaron faces the prospect of the very evil he works to eliminate taking on the form of his beloved Israeli countrymen. For the sake of his team, his expectant wife, and himself, he must hold himself together and perform his duties. (c) Corinth
Rating:
NR
Genre:
,
Directed By:
Written By:
In Theaters:
Runtime:
Studio:
News & Interviews for Ha-shoter (Policeman)
Critic Reviews for Ha-shoter (Policeman)
Audience Reviews for Ha-shoter (Policeman)
½
While some might be disappointed that "Policeman" does not resemble an average fast-paced episode of "Flashpoint," the movie's deliberate pace does allow for a thoughtful examination of today's Israel and the fractures that exist just beneath the surface. While the police and terrorists might not seem to have anything in common, they actually do, in that they resolve their disputes through violence. Yaron(Yiftach Klein) is the leader of an elite police unit who is also soon to be a father. As such, he looks after his wife Nili's(Meital Barda) every need, even carrying her very pregnant person up several flights of stairs. He is also lecherous enough to hit on a waitress who it turns out is only 15. Ariel(Gal Hoyberger), one of his comrades, has a tumor and the other men in the unit pity him before shifting the blame on a massacre onto him, albeit with his approval. By contrast, the terrorists do make some valid points. However, Shira(Yaara Pelzig), their spokesperson, is about the only stereotype in a movie full of three dimensional characters, as she seems to be a spoiled young otherwise undecided rich woman who is simply involved in the movement as a way of rebelling against her parents. But Pelzig's fierce performance makes up for some of that. With an intriguing structure that stays exclusively with each group for an act, I am still a little befuddled by the movie's final shot, like I missed something I should have been paying attention to earlier.
½
An apparent attempt to dig underneath and subvert stereotypes of macho police instead immerses itself in them nearly to the point of parody. The structure, avoiding the more common technique of inter-cutting stories, instead presents them, for the most part, in two segments, followed by a third in which they are somewhat inter-cut as they converge. The performances are fine. The story good enough. But there's not much especially noteworthy here.
Michael Harbour
½
At first, I was prepared to call this film a slow-burner, however thereâ(TM)s something more unique going on here. The story lines introduced throughout the beginning of the film do not ultimately grow and resolve, nor do they eventually tie together. Rather, they simply lead no where, and the audience is left to wonder why we were shown them at all, a question that I donâ(TM)t have a clear answer to. On one level, it functions as a statement to show that these characters indeed have lives, loves, challenges and struggles, even if they do not directly relate to the plot. On another level, the director may simply be looking to fill out the character study, showing us what is going on under the surface of these outwardly vocal and militant characters, on both sides of the law. Aside from this, the acting in the film was universally superb. The characters we meet are incredibly multifaceted and nuanced, and these actors met that challenge admirably. The characters are not on the whole very likable or sympathetic, but they are incredibly compelling, due in large part to the acting. The writing and directing were equally effective and even-handed. Undoubtedly, this film had a lot to say about Israeli society, and in particular Israeli law enforcement, youth culture, activism, and terrorism, all topics that I am decidedly ill-equipped to comment on. Although aspects of this brooding film elude me, it was certainly thrilling to watch, and left me with a lot to think about. Read the full review here: http://mattreviewsstuff.com/2012/04/30/policeman/
Matt Brown