Habit
(1997)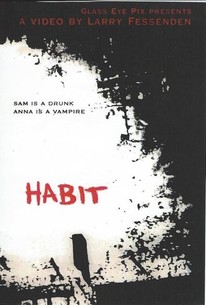 Movie Info
It's autumn in New York. Sam has broken up with his girlfriend, and his father has recently died. World-weary and sloppy drunk, he finds temporary solace in the arms of Anna, a mysterious woman who draws him away from his friends and into a web of addiction and madness.
Rating:
R
Genre:
,
Directed By:
Written By:
In Theaters:
On DVD:
Runtime:
Studio:
Glass Eye Pix
Audience Reviews for Habit
½
Fassenden's attempt to do a vampire film is hampered by its small budget which is clearly evident throughout the production. A good low budget director can compensate and make an audience forget that short cuts are being taken. It doesn't happen here.
John Ballantine
Super Reviewer
½
Even though habit is in no sense a good film and may will probably bore most, larry Fessenden's talents and the last 15 minutes are quiet satisfying.
ismael rodriquez
(from The Watermark, 05/10/98) A vampire movie that has it all! Well, except for interesting characters, plot, theme, and technical merit. Fessenden is a semi-employed alcoholic who meets a pretty young woman (Snaider) at a Halloween party. The two of them quickly become involved sexually, and as they make love, Snaider always manages to bite Fessenden and draw blood. As Fessenden starts to become ill from being this chick's human water fountain, he starts to wonder if Snaider might be a vampire and not just a good lay with an erotically quirky fetish. Fessenden, who also wrote and directed the film, has made the worst kind of low-budget independent flick: the type that has infinite possibilities, none of which are realized. First of all, why make a vampire film at all, when the subject matter is beyond overdone? What new spin is Fessenden aiming for that we haven't already seen? Couldn't he have used the enabler alcoholic buddies in the film to make a statement on parasitism as related to his friends, his addiction and his romance (hence, the title)? Furthermore, Fessenden sets up many of the long-observed "myths" of vampirism in addition to other thematic possibilities, only to later abandon them. Is Fessenden under the impression that make no statement at all is a contribution to the genre? Fessenden does do better on the visual level by setting the film in dirty hovels and run-down back alleys with a large emphasis on hand-held camerawork and natural lighting. His gritty, seedier side of New York does help make the circumstances seem somewhat plausible. As an actor, Fessenden's performance is commendable, his harsh features fitting right in with his distasteful and unattractive setting. His fellow cast members, though, are clearly inexperienced, and can't do a thing with the uninspiring dialogue he has written for them. As one of the newcomers to watch in the film world, here is hoping that Fessenden comes to realize his next foray will require more emphasis on content and less on presentation. I did like the titles, though. QUEER QUOTIENT: Snaider's beauty is interesting: a cross between k. d. lang and Demi Moore. Very androgynous and I'm sure appealing to lesbian viewers. At one point, she even tries to seduce one of Fessenden's female friends. But, don't get your hopes up: the steamy scenes are all heterosexual, feeding us the old cinematic cliché of woman-bare-naked, man-mostly-covered-up. Oo, that's really going against the mainstream.
David Almeida
Habit Quotes
There are no approved quotes yet for this movie.