Haiku Tunnel
(2001)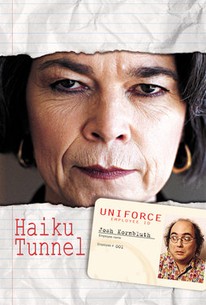 Movie Info
A temp worker is promoted to permanent status and finds his whole world changing as a result in this satiric comedy. Josh (Josh Kornbluth) is an overstuffed aspiring writer who is trying to finish his first novel, but in the meantime he supports himself by working as an office temp. Josh has grown accustomed to the Byzantine world of temporary labor, particularly the bossy secretaries and chilly co-workers, but Josh manages to impress his latest employers enough that they offer to make him a permanent, full-time employee. While a fellow temp who worked for the same company warns Josh that taking the job would be a mistake, Josh takes the plunge anyway, and soon discovers that his fellow employees now embrace him as one of their own. He also discovers that Bob Shelby (Warren Keith), his new boss, is more than a little crazy, and when Bob gives Josh an assignment to mail a series of important letters, John finds that he's suddenly incapable of doing this seemingly simple task. Instead, Josh spends his days working on his book (on company time and on a company computer), with his fellow office drones offering emphatic encouragement. Josh Kornbluth adapted Haiku Tunnel (with the help of John Bellucci and Jacob Kornbluth) from a semi-improvised one-man show Kornbluth created with David Ford; the Kornbluth brothers also directed the film.
Critic Reviews for Haiku Tunnel
Audience Reviews for Haiku Tunnel
This movie is HBO right now - I can't stand it - it made me crazy in a very bad way. Josh is extremely unlikable and this film may be the most effective way to fight the war on terror. It is certainly more evil than waterboarding.
danny odoul
½
Um. This movie was very strange. Also, Josh Kornbluth seemed very smug and his attempts at being 'meta' and ironic were pretty lame. It was just a very...strange...film. And I laughed, I dunno, once? Once. And the budget must have been pretty low. Either that or this was actually shot in the 90s, as it looks.
Allegra F
Some people really loved it, I thought it was just okay.
Anthony Valletta
Super Reviewer
Haiku Tunnel Quotes
There are no approved quotes yet for this movie.
Discussion Forum
Discuss Haiku Tunnel on our Movie forum!