Half Moon
(2007)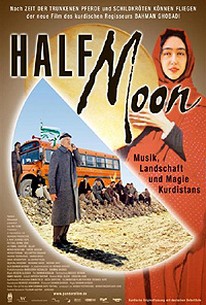 Movie Info
Director Bahman Ghobadi follows the success of Turtles Can Fly and A Time for Drunken Horses with this tale of an iconic Kurdish musician who, despite his failing health, determines to lead a dozen of his sons to Iraq for a concert staged to celebrate Saddam Hussein's fall and the end of the brutal Iraqi dictator's repression of Kurdish music. Authorization has just been granted for the concert, and upon receiving word of the upcoming musical celebration, Kako (Allah-Morad Rashtian) immediately procures a school bus and sets about rounding up his father, Mamo, and many brothers. Mamo is an elderly statesman of Kurdish music, and as the jovial collection of men make their way across the border between Iranian and Iraqi Kurdistan, they bear witness to a wide-ranging variety of sights both sublime and soul-scarring.
News & Interviews for Half Moon
Critic Reviews for Half Moon
Audience Reviews for Half Moon
I love this movie and would not mind owning it. It is a reminder of what happened to artistic freedom in Iraq.
Jennifer M
½
[color=lightblue]Excellent...Beautiful...Moving...Touching...Brutal...Humorous...[/color] [color=lightblue]These are just a few of the adjectives than can be used to describe this film. Stories like these remind us how easily things come to us and how safe a road we have to obtain our goals. It may even make one realize that they actually have no real goals or certainly very little of the passion needed to make good things happen. Maybe stories like this will not motivate everyone, but at least this one will surely stir some emotions that don't always see the light of day. [/color] [color=lightblue][/color] [color=lightblue]I would have liked to have seen the concert, I am sure it was one for the ages...I guess if Mamo did not get to see it, we do not deserve to see it, either.[/color]
Randy House
½
Despite being a tad (OK, a lot) more conventional than most Iranian films, there remains quite a bit that's worth seeing. The landscape photography is strong as are the non-professionals in the cast. The road movie conventions and the forced jokes about the west detract from the early scenes, but as it settles in, it gets more comfortable in its own skin and starts to take less traveled paths. Of course it could be better, but I'm all for as many Iranian films seeing US release as possible, so if it took a few concessions to pique the interest of Strand's DVD distribution network, I won't complain.
Richard Stracke
Half Moon Quotes
There are no approved quotes yet for this movie.
Discussion Forum
Discuss Half Moon on our Movie forum!