Hallelujah, I'm a Bum
(1933)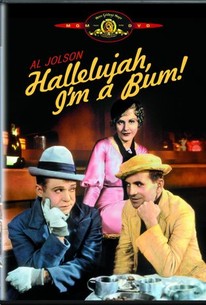 Hallelujah, I'm a Bum Photos
Movie Info
Al Jolson's "comeback" picture Hallelujah, I'm a Bum is an offbeat Depression-era concoction with script by Ben Hecht and S.N. Behrmann and music and lyrics by Richard Rodgers and Lorenz Hart. Jolson plays a genial hobo who wanders happily around Central Park, neither seeking nor accepting honest employment. He is imbued with a sense of responsibility when he rescues pretty Madge Evans from committing suicide. Evans, suffering from amnesia, falls in love with Jolson, completely forgetting her "regular" beau, mayor Frank Morgan. When she regains her memory she heads back to Morgan, leaving Jolson sadder but wiser, and prompting him back to his carefree existence. Much of the dialogue is spoken in rhyme, in the manner of an operetta--though there's nothing Romberg-like about such lyrical phrases as "Hoover's Cossacks." Former silent-film comedy star Harry Langdon has some choice moments as Egghead, a communist streetcleaner, while composers Rodgers and Hartshow up in unbilled cameos. Because the word "Bum" has different connotations in different lands, this film was released in England as Hallelujah, I'm a Tramp. The reissue version, titled Heart of a Tramp, has been severely re-edited, doing considerable damage to the carefully interwoven rhyming dialogue.
Rating:
NR
Genre:
, , ,
Directed By:
Written By:
In Theaters:
On DVD:
Runtime:
Studio:
Warner Bros.
Critic Reviews for Hallelujah, I'm a Bum
Audience Reviews for Hallelujah, I'm a Bum
½
Jolson's most unusual film is an uneven satire with rhymed dialogue by Rodgers & Hart (who also have cameos in the movie).
Michael Troudt
a whimsical and progressive pre-code musical that's likely jolson's best film. instead of blackface, he gets a black sidekick and terrific songs by rodgers and hart. the film flopped perhaps because people couldn't stomach one of the richest men in hollywood singing of the joys of vagrancy at the height of the depression, but it's still charming and a great display of jolson's talent. btw, the description here is for a different film (http://www.imdb.com/title/tt0021829/) by mervyn leroy
Stella Dallas
Super Reviewer
LOOK AT THE BIRDS, HEAR HOW THEY SING, THEY HAVE NO RENT TO PAY IN THE SPRING, YOU OWN THE WORLD WHEN YOU DON'T OWN A THING - WHAT DO YOU WANT WITH MONEY? WHAT DO YOU WANT WITH DOUGH? HALLELUJAH, I'M A BUM! is a most unconventional flick, to say the least. Released during the worst years of The Great Depression, director Lewis Milestone (ALL QUIET ON THE WESTERN FRONT) offered up a musical/comedy/drama which romanticizes the era like no other classic film I've seen. Sure, it was meant to be seen as escapist entertainment - but audiences of the time didn't buy it (I've read that this flopped at the box office)... but maybe audiences at the time weren't ready to hear dialogue that is mostly sung in a film. If you have seen THE UMBRELLAS OF CHERBOURG (1964) - with it's dialogue ALL sung - it can take some getting used to. It's possible the same can be said of HALLELUJAH, I'M A BUM! ...that or posssssibly that audiences just didn't want to hear how great it is to be poor! This film showcases the talents of Al Jolson - one of the more popular stars of the era. Here Jolson plays a bum named Bumper...and he's very content to be one too. He travels around with a sidekick bum named Acorn (Edgar Connor) - who is actually black. The very close friendship of the two is one of the more appealing aspects of the film. Bumper has the title of "Mayor of Central Park" as he is the leader of the community of homeless folks who have made New York's Central Park their home. Bumper is also very close friends with the actual Mayor of the city - John Hastings (Frank Morgan - THE WIZARD OF OZ). Morgan looks very debonaire in this. Mayor Hastings is also having a very shaky relationship with his pretty girlfriend, June Marcher (Madge Evans). She apparently is involved with another man - leading to a twist in the story. Some famous names behind the scenes here too: The story is written by Ben Hecht, one of Hollywood's most prolific screenwriters. Songs and musical dialogue by Richard Rogers and Lorenz Hart. Political and sociological observations are sprinkled among the songs throughout the film. This being a precode film - you can look for some sexual innuendo in some of the lyrics. I really haven't seen too many Madge Evans films yet - but I think I will make it a point to do so. She was one beautiful lady. There is a shot of her removing her hosiery at one point and she reveals some very shapely legs. Hubba hubba. There is also a scene with Frank Morgan as a drunken Mayor Hastings and he recites a line that will become very iconic in another film of his...oh, come six years later. You will probably do a double take during that scene just like I did. I very much liked Al Jolson in this. He really is not what you would call an "ideal" looking leading man but it may be just that quality that makes his relationship with the girl here touching and bittersweet. 8.5
bernard anselmo
Hallelujah, I'm a Bum Quotes
There are no approved quotes yet for this movie.