Halloween 4: The Return of Michael Myers
(1988)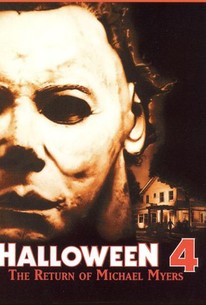 Halloween 4: The Return of Michael Myers Videos
Halloween 4: The Return of Michael Myers Photos
Movie Info
This fourth entry in the Halloween franchise focuses on Jamie Lloyd (Danielle Harris), the niece of ubiquitous masked killer Michael Myers (George P. Wilbur). Jamie tries to lead a normal life, but she can't escape the vengeance of her "funny uncle," who once more escapes from the loony bin. The only echo of the original Halloween -- and a faint one at that -- is the casting of Donald Pleasence as Dr. Loomis, who manages to get through his "We must stop him!" scenes as if mouthing the words for the first time. Though as predictable as they come, Halloween 4 is at least well acted, directed, and photographed.
Rating:
R (adult situations/language, nudity, violence)
Genre:
Directed By:
Written By:
In Theaters:
On DVD:
Runtime:
Studio:
Watch it now
Cast
News & Interviews for Halloween 4: The Return of Michael Myers
Critic Reviews for Halloween 4: The Return of Michael Myers
Audience Reviews for Halloween 4: The Return of Michael Myers
½
Now this is more like it. Halloween 4: The Return of Michael Myers feels much more like a sequel to me than Halloween II does. It's also made much better than that film was, too. Let's take a look at the positives. You have Donald Pleasance returning to his career-defining role, a great young actress in Danielle Harris, a great cinematographer/writer/director team behind the scenes, and best of all, you have John Carpenter's and Debra Hill's non-involvement. It's great that they started everything but their ideas about what to do with the series weren't very good, and I'm happy that they handed the reins over to Moustapha Akkad. This is a great sequel in a horror franchise where few good films can be found. My only gripes are the almost sex scene (not necessary), the extraneous boyfriend character and Michael himself. He's not as impressive as he is in the original, but I doubt anyone can ever recreate or better that performance. I'm nit-picking here obviously, and I'm also blabbering on, but I really enjoy Part 4 as it is, to me at least, the best sequel of the series.
Tim Salmons
Super Reviewer
½
After the absence of Michael Myers in part three, the filmmakers decided to bring him back with a vengeance. In what is the best sequel along with Part 2 and H20, Halloween 4: The Return of Michael Myers is a fine return of our favorite boogeyman. A very chilling film, Halloween 4 delivers terrific jolts that will delight fans that were disappointed in Season of the Witch. Halloween 4: The Return of Michael Myers is definitely a sequel that lives up to the second film in the series. I thought that this film was very well done. The film manages to bring effective scares and delivers what Halloween fans want in a Halloween film. This film is one atmospheric horror film, and in has touches that have made the first one so effectively creepy. A Sequel that's pretty impressive, it offers new scares and screams for Halloween fans. The Return of Michael Myers erases the slate clean of the stain that was Season of the Witch. This is film is downright Creepy and is full of suspense, it will delight Halloween fans that were disappointed with part 3. There are plenty of effective jolts, scares and decent performances to keep the die-hard fans happy. This one of the best sequels of the series and it delivers something scary, effective and thrilling. With the return of Michael, you definitely get a film that brings on what you'd expect from a good Halloween sequel. The Return of Michael Myers is far superior to Season of the Witch. Welcome back, Michael.
½
Dr. Samuel Loomis: Ten years ago, he tried to kill Laurie Strode. Now he wants he daughter. "HE'S BACK" I've always loved Halloween 4. It is probably my favorite sequel to Halloween, even though I think Halloween 2 is a better overall movie. Halloween 4:The Return of Michael Myers dissolves the bad taste of Halloween 3 and brings Michael Myers back. Not a bad idea after the whol mask fiasco from number 3. This is one of the first horror movies I ever saw and the ending scared the hell out of me as a child. I still love the ending. Years after the events that occurred in the first two mvies, Michael Myers escapes once again. Now he is after his niece who has been orphaned after the death of her parents.Just as important as Michael being back, is that Doctor Loomis is back also. The acting is very suspect, but I don't think it is to the point where it takes away from the enjoyment of the movie. This is one of those slashers you jst like; not because it is great, but because it exists. There is no way I would have been happy with the series ending at number 3. They don't come back with a shitty sequel either. As far as slashers go, this is easily in the top 10 percent of slashers. If you are a fan of the first two, I think more than likely you would like this one too.It is obviously not going to be the masterpiece Halloween was, but it is a fun little slasher that is good enough to warrant a watch. More than you can say for numero tres.
Melvin White
Super Reviewer
Discussion Forum
Discuss Halloween 4: The Return of Michael Myers on our Movie forum!
News & Features