Halloween H20
(1998)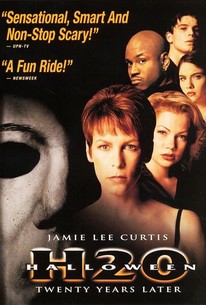 Movie Info
Laurie Strode, now the dean of a Northern California private school with an assumed name, must battle the Shape one last time and now the life of her own son hangs in the balance.
People Who Like this movie also like
News & Interviews for Halloween H20
Critic Reviews for Halloween H20
Audience Reviews for Halloween H20
One of the best horror movies I've seen in my life. Its both entertaining and very well acted by Jamie LEe Curtis, and has one of the best ending climaxes to a horror movie I have ever seen
Michael Edwards
Super Reviewer
Now we come to a horror series that, in my opinion, long overstayed its welcome in the sequel and remake department. Halloween H20: 20 Years Later is probably one of the best attempts at a true sequel while at the same time being entertaining in and of itself. This time around, we get to know Laurie Strode (who has been in hiding) and her son, spending time in their lives before the eventual build-up to the clash between Laurie and Michael. Unfortunately, this film feels very tired and doesn't really bring anything new to the table. Despite bringing back Michael's sister, it feels weak. Michael isn't all that interesting in this one either and, to be fair, hasn't really been so since the original film. This is also yet another retroactive sequel that takes place after the events of the first two films and ignores sequels 4-6. This could have been a great opportunity to tie together the contuinity of the series for a change, but they screwed the pooch on that and made the selling point and ultimate focus of the film the battle between Laurie and Michael. The murders aren't all that interesting, the score is pretty lame and the overall length of the movie feels much shorter than it actually is. It's not too bad, but it could have benefitted from a little more bloodshed, a bit more of a build-up, a better actor to play Michael and a better continuity for the series as a whole. I have a feeling that someone should have taken this away from Moustapha Akkad early on and this series wouldn't have been such a mess, but oh well. It's ok for what it is, but like most of these movies, it could've been better.
Tim Salmons
Super Reviewer
Michael Myers is dead, right? Crazy psycho murdering sociopath ... they killed him in the last one, right? It's been 20 years! Scream queen Jaime Lee returns to scream, er, bloody murder again (her mom, Janet Lee, famous for some other obscure scream rite of passage, along for the ride) and it is ever so ... that guy is dead, right?
Kevin M. Williams
Super Reviewer
Halloween H20 Quotes
| | |
| --- | --- |
| Will Brennan: | What do we do? What dowe do? |
| Laurie Strode/ Keri Tate: | Try to live! |
| | |
| --- | --- |
| Norma Watson: | Oh. Miss Tate. I didn't mean to make you jump. It's Halloween. I guess everyone's entitled to one good scare. |
| Laurie Strode: | I've had my share. |
| | |
| --- | --- |
| Jimmy Howell: | Are you coming? |
| Tony Allegre: | Nah, l-l better stay here and protect her. |
| Jimmy Howell: | Oh-ho ! ...Right, dude. ...Good. |
| Jimmy Howell: | Oh-ho ! Right, dude. Good. |
Discussion Forum
Discuss Halloween H20 on our Movie forum!