Hands Across the Table
(1935)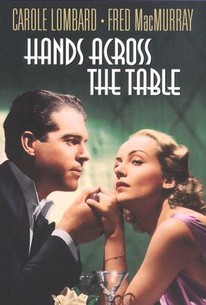 AUDIENCE SCORE
Critic Consensus: No consensus yet.
Hands Across the Table Photos
Movie Info
In this romantic comedy, a manicurist after being jilted one time too many decides to harden her heart against love, and look for financial security instead. She journeys to Manhattan and meets a handsome, wealthy man in a wheelchair. He falls madly in love with her and has every intention of marrying her. Meanwhile, a playboy from an impoverished aristocratic family is preparing to marry a wealthy socialite to restore his fortune. The playboy meets the manicurist when he saunters into her shop one day. He invites her to dine. She, thinking he is rich, accepts. To pay for the repast, the man uses the money his fiance had given him for a vacation in Bermuda. At dinner he gets very drunk and ends up spending the night in her tiny apartment; the next day, when she gets back from work, he tells her the truth about his family. By this time she doesn't care; her hard heart has melted and she is madly in love. They decide to marry as soon as he can find a job. Their wealthy fiances are left behind without a backward glance.
Rating:
NR
Genre:
,
Directed By:
Written By:
In Theaters:
On DVD:
Runtime:
Studio:
Paramount Pictures
Critic Reviews for Hands Across the Table
Audience Reviews for Hands Across the Table
½
Can you think of a worse title for a film than this? Again a 1930's black and white silly tale of what? Hands Across the Table? What a title is that? She's a manicurist finding love with a client. Who could have dreamed up this plot. A kid from high school perhaps? Hands Across the Table is a 1935 American romantic screwball comedy film released by Paramount Pictures. It stars Carole Lombard as a manicurist looking for a rich husband and Fred MacMurray as a poor playboy, with Ralph Bellamy as a wealthy but handicapped ex-pilot. NOTES: 1 The teaming of Lombard and MacMurray was so well received, they went on to make three more films together, 1936's The Princess Comes Across, 1937's Swing High, Swing Low, and 1937's True Confession. 2 The film was intended primarily as a vehicle to promote Lombard's comedic acting abilities. MacMurray was not known for his comedic acting abilities and found it difficult to be humorous enough for the role. REVIEWS by the Pros: The New York Times reviewer Andre Sennwald called it "an uproariously funny romantic comedy, with a brilliant screen play", with "some of the best dialogue that has come out of Hollywood in many months". Modern critic Dennis Schwartz disagreed, writing that the "sophisticated screwball comedy is never that funny or intelligent as it appears to be at first glance." [img]http://upload.wikimedia.org/wikipedia/commons/thumb/8/82/Hands_across_the_table.jpg/220px-Hands_across_the_table.jpg[/img] Fred McMurray is his unhandsome, loser self in this terrible plot. .SEE the entire thing for yourself and decide: http://www.youtube.com/watch?v=j-4iHdadfpI is part one. other parts follow. Directed by Mitchell Leisen Produced by E. Lloyd Sheldon Written by Norman Krasna Viña Delmar (story) Starring Carole Lombard Fred MacMurray Distributed by Paramount Pictures Release date(s) October 18, 1935 Country United States Language English [img]http://upload.wikimedia.org/wikipedia/en/thumb/8/80/Hands_Across_the_Table_poster.jpg/220px-Hands_Across_the_Table_poster.jpg[/img] Carole Lombard as Regi Allen Fred MacMurray as Theodore "Ted" Drew III Ralph Bellamy as Allen Macklyn Astrid Allwyn as Vivian Snowden Ruth Donnelly as Laura, Regi's boss and friend Marie Prevost as Nona, Regi's friend and a strong believer in numerology
monsieur rick
Breezy lark with a sparkling Carole Lombard. She and Fred work well together as always and if you only know him from his years as the retiring dad on My Three Sons he's quite dishy here. Ralph Bellamy is the odd man out again but at lest his Allen is afforded some dignity here instead of being the poor sap he usually got stuck playing.
good stuff good chemistry between the 2 lesds and though I'm not a big fan of lombard she shines here.
Gregory Wood
Discussion Forum
Discuss Hands Across the Table on our Movie forum!