Hanger
(2009)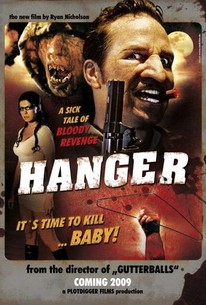 AUDIENCE SCORE
Critic Consensus: No consensus yet.
Movie Info
The deformed survivor of a botched coat hanger abortion returns to seek revenge against the pimp who murdered his mother and tore him out of the womb in this grimy horror yarn from Gutterballs director Ryan Nicholson. Low-rent prostitute Rose (Debbie Rochon) was nine months pregnant when her pimp attempted to give her a back alley abortion. Though the fetus, nicknamed Hanger, was thrown in the dumpster and left for dead, he somehow managed to survive. Now Hanger is all grown up, and the streets are about to run red with the blood of society's garbage. ~ Jason Buchanan, Rovi
Rating:
NR
Genre:
Directed By:
Written By:
In Theaters:
On DVD:
Runtime:
Critic Reviews for Hanger
There are no critic reviews yet for Hanger. Keep checking Rotten Tomatoes for updates!
Audience Reviews for Hanger
½
Great film that is entertaining and disgusting at the same time without trying too hard. some of the acting is shit, but it is to be expected. over all the effects (all practical makeup) looks great and the setup and atmosphere keep you interested all the way through
Ian Bracken
Amidst a series of violent, sexual, gory, disgusting, and offensive scenes that are pretty much all over the map, Plotdigger Films' Hanger is the story (if you could call it that) of pregnant prostitute Rose (played by go to genre actress Debbie Rochon) who is desperately trying to get out of the hooker game until her pimp Leroy (newcomer Ronald Patrick Thompson) beats her and performs a particularly gruesome abortion (via coat hanger) on her. Rochon dies during the abortion and the baby is left mangled and in the dumpster until a homeless guy pulls it out and raises it (with the catchy name of Hanger) for 18 years. Now an adult, Hanger partners up with his father, The John (the great Dan Ellis), a gung-ho hardass hellbent for revenge, but eager to introduce Hanger to the real world by way of a job at a dilapidated and scummy scrap yard where Hanger befriends Russell (Wade Gibb), a bad Asian stereotype that loves his beer and porn. While Hanger works, he and the John prepare to have their revenge on the man who took Rose from them. So what can one expect from Hanger? Well, how about visible vaginal mutilation, a graphic abortion, penis mutilation, man rape, open wound rape, lactating titties, explicit masturbation, used tampon teabags, cannibalism, multiple head crushings, and a Dirty Leroy (imagine a female variation of the Dirty Sanchez). After watching my newly purchased copy of Gutterballs, I almost immediately wondered how the hell Nicholson was ever going to top that movie. Director Ryan Nicholson's Hanger offends on EVERY level imaginable. It goes without saying that this film is not for the squeamish, but then again, this film is probably not for the general population. Hanger is a sick and depraved venture into human scum and madness that almost seems like a modernization of Tobe Hooper's early work. Think about it; purposely grotesque and unlikable characters, dark and moody tone/camerawork, loud and sometimes incoherent dialog that's just as over-the-top as the characters who speak it. Yes, there is definitely a strange and interesting correlation between Nicholson's films and Hooper's early films (Texas Chainsaw Massacre and Eaten Alive to be specific). As far as the standard components that make up a horror film, Hanger spares no expense and delivers more that just the usual array of nudity and gore, in fact, they're knocked right out of the park. When I use words like graphic and explicit, I mean them. There is stuff in this film you will NEVER see in regular horror films. While some nice Debbie Rochon nudity is always welcomed in a horror film, Plotdigger Films has a hot commodity in the form of Candice Lewald, who plays an office receptionist at the scrapyard. Judging by the mixed bag of hot, nasty, brutal, and disgusting lengths that Lewald is willing to go, this is an actress I want to see more of. Ryan, you are to NEVER make a film again without her having some kind of role in it! As for the gore, much like the adult situations, it was relentless. Not a single death scene is tame throughout this film. Nicholson is able to apply his vast talent of special effects work by having Hanger sport ample amounts of blood and make-up prosthetics, which is always a breath of fresh air and a welcomed change from the overabundance of shitty CGI. Focusing back on the characters (as well as the actors who portray them), I found it interesting that a lot of the characters, aside from the title character, suffer from some degree of facial disfigurement. Nicholson works to provide a different variation of the scummy part of the world comprised of freaks, villains, and the depraved. While most of the characters are unique in their own way, there are really two scene stealers throughout the film, Dan Ellis' (someone I'm proud to call my friend) John character and Wade Gibb's Russell character. Ellis' John character is a no-nonsense taking shit kicker who bids his time waiting to exact his revenge on the pimp who killed his beloved Rose. He's not afraid to show he cares for Rose and their son Hanger, but he's also not afraid to take a screaming hooker and smash her face with a car door. As far as Gibb's Russell character goes, he's utterly sick and disgusting with some of the acts he engages in throughout this film, but at the same time, he also seems to represent the comic relief throughout the film as he manages to deliver some comically amusing (sometimes hilarious) lines that only add to this bizarre film. Until now, Nicholson and the Plotdigger Films family have managed to make films without the use of big name (at least in our world) genre actors, but with Hanger, we are blessed with a couple of surprise visits. While the aforementioned Debbie Rochon plays a vital character to the story, there's also a (very) brief appearance from none other than Lloyd Kaufman, as a particularly unattractive transsexual hooker named Melvina (who suffers his own unique brand of mutilation). Nicholson, himself, drops in for a scene as the homeless bum that raises Hanger. The common moronic moviegoer will automatically not "get" this film (or any other Nicholson/Plotdigger films for that matter) and will immediately trash Hanger by citing throw-away complaints that you can generally make for ANY movie in existence. Sure you can say the acting and overall quality of Hanger is below-average, but the movie is a low-budget independent film for crying out loud. Of course it's going to have those usual hiccups. The filmmakers do a great job of working with the budget they had to create Hanger. Sure, the storyline is a bit shaky and incoherent because of how much it deviates and goes off track, but where else are you going to find a climactic trifecta of dual man rape, explicit female masturbation, and stinky pussy motorboating? In conclusion, I genuinely enjoyed Hanger, which puts me as leader of the minority. The filmmakers cater to a specific group of movie watchers and I'm part of that group. I enjoy the brutality, ultra-violence, splatter gore-fest, sexually over-the-top hot messes that Nicholson and company make. I remember thinking Live Feed was a blast, and Gutterballs certainly topped it, and now Hanger has come out and made both of those earlier works look like Disney films. Watching Hanger has left me excited and curious for Nicholson's next venture, Star Vehicle. Can this one top the ferociousness of Hanger? Only time will tell.
Jason Duron
Hanger Quotes
There are no approved quotes yet for this movie.