Hangmen Also Die
(1943)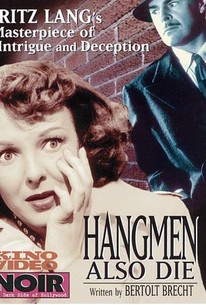 Hangmen Also Die Videos
Hangmen Also Die Photos
Movie Info
This film is set in Czechoslovakia during the Nazi occupation. Czech loyalist Brian Donlevy assassinates the vicious Gestapo leader Heydrich, then goes into hiding. Fifth columnist Gene Lockhart arranges for 400 Prague citizens to be rounded up as hostages, to be killed if Heydrich's assassin is not revealed.
Rating:
NR
Genre:
Directed By:
Written By:
In Theaters:
On DVD:
Runtime:
Studio:
Cohen Media Group
Cast
Critic Reviews for Hangmen Also Die
All Critics (11) | Top Critics (5) | Fresh (9) | Rotten (2) | DVD (1)
Although Director Fritz Lang gives this familiar material occasional touches of distinction, the picture still misses Grade A rank.
From a directorial standpoint this is a triumph for Fritz Lang, who succeeds with singular success in capturing the spirit of the Czech people in the face of the Nazi reign of terror.

For all of Mr. Lang's finesse, his film is too patient -- it runs well over two hours -- too ponderous to hit its stride as melodrama. Nor does it match in emotional power and conviction its heroic theme.
New York Times
Top Critic
The two-and-a-quarter-hour film has the iconic thrust of a silent; the pro-sacrifice resistance cant has an oddly jihadist tenor today.

Superb performances throughout, while James Wong Howe's photography perfectly captures the spirit of the occupied city, where hiding places are few and far from safe.
Audience Reviews for Hangmen Also Die
½
This is a nice little piece of intrigue from Fritz Lang based off real events in Czechoslovakia. Anna Lee finds herself admidst a web of trouble when she helps a member of the underground. But the Nazis are soon hounding her and her father's life is put in danger. She is forced to choose where her greatest allegiance stands. At the time it came out this movie functioned as an anti-Nazi film and it still packs a decent punch
Four Star Film Fan
½
I find that Fritz Lang's films are often hit-or-miss, but even when they miss, they're still usually interesting failures. "Hangmen Also Die!" isn't a failure at all, but it is too long and not as tensely directed as it should have been. What could have been a riveting thriller about the Czechs getting their revenge against the Nazis ends up being kind of exciting but nonetheless forgettable. Side note: it was co-written by noted German playwright Bertolt Brecht, who seldom wrote screenplays.
Stephen Earnest
Super Reviewer
Well, I'll be damned. A movie where I DON'T hate Walter Brennan's guts. As opposed to his usual Western persona (the doddering, cranky, heavily mannered, oafish, unfunny comic relief who looks like he smells very, very bad) here he's quite dignified. The film is a grim wartime political thriller based on the true story of a Reich official assassinated in Czechoslovakia. Based VERY loosely, however, as the events in the movie have little to do with reality. Directed by Fritz Lang and written by Bertolt Brecht, their hearts are in the right place. But if we're going call out movies for being overly propagandistic, we can't exclude those we happen to agree with. This is really heavy-handed, black/white, good/evil stuff. The camerawork is sophisticated, the script is not. Still, it's a solid thriller that manages to be sufficiently gripping despite its lengthy running time. Lang pulls off some marvelous shots. And besides, it's hard to get too worked up about anti-Nazi propaganda, no matter how ham-fisted. It's closer to the truth about Nazis than most other movies from the same period.
Martin Teller
Discussion Forum
Discuss Hangmen Also Die on our Movie forum!
News & Features