Hanover Street
(1979)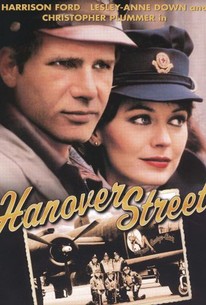 Movie Info
In this WWII romance, Harrison Ford (face-to-face with superstardom from his involvement in Star Wars) is cast as David Halloran, an American bomber pilot stationed in London. During an air raid, Halloran meets and falls in love with beautiful Briton Margaret Sellinger (Lesley-Anne Down). Naturally, Margaret is married, and just as naturally David hopes that this won't make too much difference in their relationship. But this is not to be: Halloran is assigned behind enemy lines on a dangerous assignment, and his partner in this endeavor is Margaret's husband, Paul (Christopher Plummer).
Critic Reviews for Hanover Street
All Critics (7) | Fresh (4) | Rotten (3) | DVD (1)
Pedestrian, brooding WWII period film features stoic Harrison Ford.

Plummer's earnest spy who is really the best among the cast, symapthetic yet clearly obsessed with his work

Audience Reviews for Hanover Street
½
The movie info isn't correct. Halloran isn't assigned to work behind enemy lines he is the pilot who is supposed to take an agent into the skies over occupied France and have him parachute out of his bomber. He ends up getting shot down and the agent and he are the only survivors. Halloran ends up working with Margaret's husband as a way to escape from the Germans and get back to England. There is a lot of good scenes in this movie but overall it is just your average war flick.
Mike Long
½
A pretty moving film, we know immediately this is a romance set in WW II early. Ford, our awkward actor and usually bad one too, falls in love with a British married gal. The bomber group his flys with is great to see, obviously all flying real bombers of the era. But the bombing runs are thrown in as a afterthought, not the primary mission of the movie. By the way, the sound is terribly low and unless you can find a way to pump it up, its very hard to hear. I must give this film credit for fantastic views of these relic aircraft. Obviously, these bombers have been well cared for after 70 years. Harrison Ford stars as an American WWII pilot stationed in England who falls in love with a married British nurse (Lesley-Anne Down). When his plane is shot down behind enemy lines, he discovers that the secret agent he must protect is her husband. Christopher Plummer (Sound of Music) is the spy/husband of the girl in love with our American flyboy Ford. I just couldn't see this as anything more than a recreation of a WWII movie with modern people, modern attitudes and modern film making. Its terribly fake. All the fabulous original aircraft, the great costuming and fake German accents can't make this one fly with me. See this movie here: http://www.hulu.com/watch/153577/hanover-street NOTES: o The film was a critical and commercial failure on its release, but has developed a following amongst aviation enthusiats due to the flying sequences. o The aerial sequences were mostly filmed at the by then-disused Bovingdon airfield using five North American B-25s Mitchell bombers flown over to England from USA specially for the filming. o Films directed by Peter Hyams 1970s Busting (1974) · Our Time (1974) · Peeper (1975) · Capricorn One (1978) · Hanover Street (1979) 1980s Outland (1981) · The Star Chamber (1983) · 2010 (1984) · Running Scared (1986) · The Presidio (1988) 1990s Narrow Margin (1990) · Stay Tuned (1992) · Timecop (1994) · Sudden Death (1995) · The Relic (1997) · End of Days (1999) 2000s The Musketeer (2001) · A Sound of Thunder (2005) · Beyond a Reasonable Doubt (2009) Directed by Peter Hyams Produced by Paul Lazarus III Written by Peter Hyams Starring Harrison Ford Christopher Plummer Lesley-Anne Down Patsy Kensit Music by John Barry Cinematography David Watkin Editing by James Mitchell Distributed by Columbia Pictures Release date(s) 26 September 1979 Running time 109 mins
monsieur rick
Action director Peter Hyams is out of his element with this melodramatic World War II drama, which consists mostly of an unlikely tryst between American soldier and British nurse. But I'm a fan of Harrison Ford as he was quite a hero in this late 1970's film.
Dean McKenna
Super Reviewer
Hanover Street Quotes
There are no approved quotes yet for this movie.
Discussion Forum
Discuss Hanover Street on our Movie forum!