Hansel & Gretel: Warriors of Witchcraft
(2013)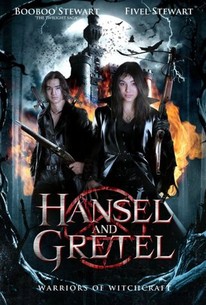 AUDIENCE SCORE
Critic Consensus: No consensus yet.
Hansel & Gretel: Warriors of Witchcraft Videos
Hansel & Gretel: Warriors of Witchcraft Photos
Movie Info
JONAH AND ELLA MAZER (Hansel and Gretel) were happy, normal teenagers-sent to an elite boarding school. The Head Master, SEBASTIAN, seems to know more about the brother and sister than they know about themselves. As both get to know their high school classmates, strange and frightening things begin to happen. When their new friends explain that they are all descended from powerful witches, and they've been waiting for Hansel and Gretel to join them and complete a new generation of the Coven, both refuse to believe them. But it's not until Hansel discovers a message from his mother in an old leather-bound book of spells hidden in the school library, that he understands their true and dangerous destiny - slaying witches.
Critic Reviews for Hansel & Gretel: Warriors of Witchcraft
All Critics (2) | Fresh (0) | Rotten (2)
Such potential should have been better realized, even with a small budget.

'Bad' films can be loads of fun. Just seek out the classics of Ed Wood. There is, however, no joie de vivre to be found here, just dreary, uncampy mediocrity shoveled up like manure on a pig farm.

Audience Reviews for Hansel & Gretel: Warriors of Witchcraft
One line summary: Acting, screenplay, SFX, sound: black holes. -------------------------------------------- Twins Jonah and Ella go to an elite prep school (Lebkuchen Haus, which is German for gingerbread house; the only reference to the fairy tale) because Jonah is always getting into fights. This is ridiculous enough that it might be a good enough reason to stop watching the film. Jonah is assigned a room with Charles, who does not get along well with others. Nice. Charles warns Jonah that one either eats or gets eaten at the school. Charles is at the school through scholarship obtained by merit. Jonah is there through influence from his adoptive parents; he was born into a lower social setting. So, Charles has two reasons not to like him. Ella is assigned a room with Kristen, who works on the school paper. Kristen used Google to find out all sorts of information about Ella. Kristen thinks she has a kick-ass story that will blow the lid off the school. In Jonah's first class (held outside; sure), Ms Thomas goes on about Golding's hypothesis that humans naturally reject civilisation whenever possible and descend into savagery. Jonah appears not to be listening, but then again, he's a perfect example of the lesson. When asked about what had been said, though, Jonah summarised it in one sentence. Jonah finds that there are witches at the school, and they invite him to join. They know, somehow, that he has a circular birthmark at the back of his head, just as all of them do. They show him that he can do some unexpected things, and swear him to secrecy. Charles warned of students going missing; he decides to leave before it happens to him. Kristen goes missing; Ella tries to follow her research. She ends up following Jonah, and asks him what he has been up to; Jonah stays quiet about it. Some of Kristen's research involves the coming of European witches to America, and the attempt of the 'Great Witch of the Woods' to rule in the Americas. Despite the fact that many of the followers were put down in Salem, the GWW is still alive and about 400 years old, and has new followers in the Circle. The job of the Circle is to find young souls for the GWW to feast on. The counter current here is the presence of a few who have witch skills but are tasked with killing evil witches; these people would be 'witch slayers.' Are the twins witch slayers or servants of the GWW? -------Scores-------- Cinematography: 5/10 Amateurish. The re-use of some of the campus stock footage was beyond irritating. Some short clips were each repeated at least ten to twelve times. Sound: 0/10 Fracking hideous. The sound has multiple personalities: (a) pieces of the score sound as if they were made in the 1970s by an out of work composer with a lesser grade synthesizer (b) other pieces are florid, symphonic, and ridiculous for an action film (c) another set of background music is second rate industrial, say late 1990s. Some of the conversations were very badly miked, and sounded noticeably hollow. Acting: 0/10 The leads were dull non-actors who are a huge anchor around the neck of this drowning film. Booboo, in particular, is so poor that it is painful to watch any scene he is in. His attempts to read a sentence from a book were pathetic. Judy Norton and Eric Roberts were wasted. Roberts' slurred speech in the early scenes sounded as if he was recovering from something, and that hair cut was laughable. What was the director thinking? Screenplay: 0/10 Why would an ineffective ruffian (Jonah) be placed in an elite prep school? It's like asking a fish to walk 100 miles in a desert at the height of summer. What were the real reasons that he was admitted? Why would his sister go as well? The answers come late, and were not that interesting when they showed up. The dialog was between sub-standard and just plain bad. The great dramatic moment at the end was a complete dud. SFX: 0/10 Laughable: both uninteresting and not believable. Zero was too high a score.
Ed Collins
Hansel & Gretel: Warriors of Witchcraft Quotes
There are no approved quotes yet for this movie.
Discussion Forum
Discuss Hansel & Gretel: Warriors of Witchcraft on our Movie forum!