Hansel and Gretel: Witch Hunters
(2013)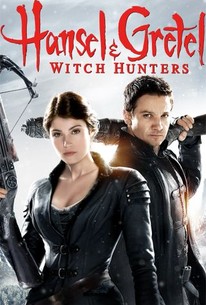 TOMATOMETER
AUDIENCE SCORE
Critic Consensus: Alternately bloody and silly, Hansel and Gretel: Witch Hunters fails as both a fantasy adventure and as a parody of same.
Hansel and Gretel: Witch Hunters Videos
Hansel and Gretel: Witch Hunters Photos
Movie Info
After getting a taste for blood as children, Hansel (Jeremy Renner) and Gretel (Gemma Arterton) have become the ultimate vigilantes, hell bent on retribution. Now, unbeknownst to them, Hansel and Gretel have become the hunted, and must face an evil far greater than witches...their past. -- (C) Paramount
People Who Like this movie also like
News & Interviews for Hansel and Gretel: Witch Hunters
Critic Reviews for Hansel and Gretel: Witch Hunters
Audience Reviews for Hansel and Gretel: Witch Hunters
The idea of telling the classic fairy tale of Hansel and Gretel within the first five minutes and then make them grown-up with hunters could have made for a fun magical adventure. Instead we get a plastic version with hilariously annoying witches, two heroes who utter nothing but simplistic nonsense and a rushed plot that could be summed up on a stamp. Artificial, unintentionally funny and stupid movie making at its worst. Everyone involved should be ashamed of themselves. This film makes Van Helsing look like a masterpiece, and that's saying something.
½
Don't get excited. It's another entry into the fantasy/action genre (as per League Of Extraordinary Gentlemen and Van Helsing), with steampunk inspirations, alt soundtrack, and some little gore quotient. Add supposed to be catchy catchphrases whenere a baddie is dispatched and its pretty much predictable before the opening shots. Time passes quickly however and while not surprised you'll not be completely bored either.
Kevin M. Williams
Super Reviewer
Revenge is sweeter than candy. Good Movie! Its not an intellectually stimulating movie. Its made to a hilariously entertaining popcorn flick with over-the-top action and unrealistic weapons that wouldn't have existed given the 'time period' this movie seems to be set in. So you folks out there giving it bad rap for not meeting your standards, calm down. Its clearly not trying to. The only complaint I have is that it wasn't long enough. It's run time is just short of 90 minutes so they had ample room to expand a few scenes or even add new ones to flesh out the character development a little. A definite recommend for any action junkie. The siblings Hansel and Gretel are left alone in the woods by their father and captured by a dark witch in a candy house. However they kill the witch and escape from the spot. Years later, the orphans have become famous witch hunters. When eleven children go missing in a small village, the Mayor summons Hansel and Gretel to rescue them, and they save the red haired Mina from the local sheriff that wants to burn her accusing Mina of witchcraft. Soon they discover that the Blood Moon will approach in three days and the powerful dark witch Muriel is the responsible for the abduction of children. She intends to use the children together with a secret ingredient in a Sabbath to make the coven of witches protected against the fire. Meanwhile Hansel and Gretel disclose secrets about their parents.
Hansel and Gretel: Witch Hunters Quotes
| | |
| --- | --- |
| Muriel: | Gretel. Famous witch hunter, finally we meet. |
| Gretel: | Who are you? |
| Muriel: | I see you got my invitation? |
| Gretel: | Say your name before my arrows rip out your throat! |
| Muriel: | I go by many names, none of which you're worthy of pronouncing. |
| | |
| --- | --- |
| Hansel: | I'm old fashioned,, but Gretel needs more convincing to clarify that someone is a witch |
| Hansel: | I'm old fashioned but Gretel needs more convincing to clarify that someone is a witch. |
| | |
| --- | --- |
| Ben: | When i am a grown up, i wanna hunt witches like you too do |
| Ben: | When I am a grown up, I wanna hunt witches like you too do. |
| Gretel: | We didn't ask for this Ben |