Happy Hell Night
(1992)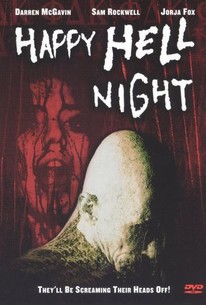 AUDIENCE SCORE
Critic Consensus: No consensus yet.
Movie Info
A pointless and ill-advised return to the slasher movie formula -- which had long since worn out its questionable welcome by the mid-'80s. This silly endeavor begins with a hazing stunt perpetrated by pledges of the Phi Delta fraternity, who try to break into a local insane asylum to take a photograph of the homicidal Father Malius (Charles Cragin). Malius, we're told, was responsible for the deaths of several college students nearly 30 years before, and is merely biding his time until he finds the opportunity to kill again. The foolish pledges set off a chain of events allowing Malius to make his escape, whereupon he makes a beeline for his former killing grounds with pickax in hand. From this point forward we're treated to an amalgam of every tired slasher cliche in the book. The only noteworthy element of this dismal production is the brief presence of Darren McGavin, who looks rather disinterested until his lively "surprise" death scene.
Rating:
R
Genre:
,
Directed By:
Written By:
In Theaters:
On DVD:
Runtime:
Studio:
Brisun Productions
Critic Reviews for Happy Hell Night
There are no critic reviews yet for Happy Hell Night. Keep checking Rotten Tomatoes for updates!
Audience Reviews for Happy Hell Night
½
A lesser known, early 90s slasher film, I thoroughly enjoyed Happy Hell Night as a self-conscious example of the genre that also featured some truly creepy moments and imagery. Funny, creepy, brutal, and slightly smart, Happy Hell Night is by no means a masterpiece of the genre, but it remains a compelling example of how the genre has continued to generate decent films outside of late 70s/early 80s.
Al Miller
This was okay as far as slashers go, it's amusing to see a few now well known faces (Sam Rockwell & Jorja Fox), as well as a few familair faces slumming it a bit (Darren McGavin), and there is some okay gore. The look of the killer is creepy enough, and his odd speech patterns are a bit off-putting, but by the end of this film I wasn't all that engaged with things on the whole. This may've been down to my not caring about a bunch of fratboys, which is entirely possible, or just that the film isn't all that well written. Rental?
Bill Bryant
Creepy early 90's slasher that centers on a madman who killed Frat boys (Hmm, we should be thanking him) and now he has been rotting away in an asylum for over 20 years. Here is a great idea, how about some more frat boys accidentally set him free. Sure enough, the killing happens again. The deaths and gore are pretty top notch in this one. Also, Kudos to the filmmakers for making the killer very creepy looking, almost like a zombie or inhuman. Hopefully this will teach those frat boys for being douchbags all of the time and date raping anything with a cunt.
Jason Duron
Discussion Forum
Discuss Happy Hell Night on our Movie forum!