Happy Hour
(2004)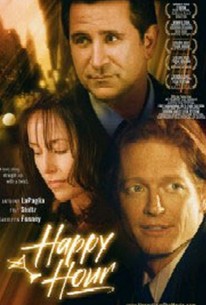 Movie Info
An alcoholic must choose between love, life, and the bottle in this independent comedy drama. Tulley (Anthony LaPaglia) is a self-described "drinker with a writing problem," who after publishing a handful of well-respected short stories, began work on a novel. The novel, however, turned out to be a harder task than Tulley imagined, and he opted to take a job as an advertising copywriter, where he earns a good living but makes scant use of his talent. Tulley has also fallen into a habit of heavy drinking, as his best friend, Levine (Eric Stoltz), looks on with bemused concern. One night at a bar, Tulley meets Natalie (Caroleen Feeney), a teacher who doesn't much care for children, and what starts as a one-night stand turns into a love affair. As Natalie gets to know Tulley better, she discovers the talent lurking behind his alcoholic defenses, and encourages him to devote himself to literature again. However, as they fall deeper in love, Tulley discovers he has a larger problem than his novel to deal with -- he's been diagnosed with cirrhosis of the liver, and won't have long to live if he can't change his ways.
Critic Reviews for Happy Hour
Audience Reviews for Happy Hour
Happy Hour is Dramedy film starring Anthony LaPaglia as Tully, our main character, who went from being a once-promising author, to becoming an advertising copy editor. Through his experiences, he moves from being a cold-hard cynic, to accepting his fate as he secretly hopes and attempts to finally write a great novel. He is accompanied by his friend Levine, played by Eric Stoltz, and a mysterious woman named Natalie played by Caroleen Feeney, who tries to save him even though she also suffers at the feet of his bouts of anger and rejection. The acting in this film is absolutely superb. Anthony LaPaglia, who has never had a problem giving a pitch-perfect performance, gives a an amazing performance that is not only harsh and dark, but it is also at time witty. Eric Stoltz and Caroleen Feeney hold their own up against LaPaglia, and give two extraordinary supporting performances. We also have the pleasure of seeing Robert Vaughan, who plays Tulley's father Tulley, sr. He also gives a fantastic performance. The writing, by first and only time director Mike Bencivenga and Richard Levine, also shifts from being dark to being witty. A very well crafted screenplay is a key necessity to having a film that works, and this films works plenty more than it needs to. It has equal parts great writing and strong character development, and you really feel all of the emotions of the characters. Especially Tulley (LaPaglia). When ever the film becomes dark and emotional, you feel with great strength everything he is going through. In conclusion, Happy Hour is an outstanding achievement. It should be required viewing by all. When I first saw it, I laughed, I cried, I felt happy, I felt sad. It is a mixed-emotion film, but it is an absolute masterpiece. Not many have heard of this film, it was only screened for a short-time at an Independent film festival, but it is not that hard to find.
Zach J.
Happy Hour Quotes
There are no approved quotes yet for this movie.
Discussion Forum
Discuss Happy Hour on our Movie forum!